Hebrew Wizards, a Greenwich-based school that offers Hebrew education for families, revealed a restructured program for 2011. Now in its sixth year running, Hebrew Wizards has added four new staff members, including Cantor Sheila Adler, musicians John Cobert and Lizzy Swan, and artist-in-residence Josh Nelson.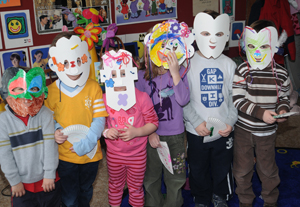 For children, Sunday programs have been restructured to include interactive electives that allow students to further study a topic of their choice. And, starting in the fall, a virtual bar/bat mitzvah program will be offered, so kids outside the area (including those in Westchester County and Long Island) can receive Hebrew education in preparation for their rite of passage.
Hebrew Wizards also added several new programs for teens, including community service and work programs, teen time, special guest speaker events, and a summer teen internship program.
For adults, there's a new adult education program called Big Wizards on Sunday mornings, which parents can attend after they've dropped off their little ones.
Sunday programs are held at the Boys and Girls Club of Greenwich, 4 Horseneck Lane. Weekday programs are held at Wizards Hall in the First United Methodist Church, 59 East Putnam Avenue, Greenwich.