Charter schools, also known as "magnet schools" or "schools of choice," have grown in popularity over the past few years, both in Connecticut and throughout the country. Find out how charter schools measure up against public schools, what school choices are available in the Fairfield County, CT, area, and if one of these schools might be the right fit for your child.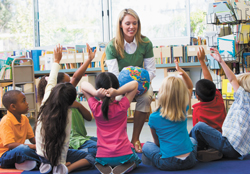 Parents may have heard about recent surveys conducted by both Stamford University and The Center for Educational Reform regarding the popularity of charter schools, and school of choice programs at large. The breaking news: a 2009 survey of America's charter schools revealed that 65 percent now have waiting lists (more than a 20 percent rise over 2008 figures) and an average of 239 kids per school are awaiting admission. Here in Connecticut, school choice is increasingly demanded by families, and State Department of Education officials stress that-from magnet to charter schools-there is a growing interest and investment in alternative learning sources.
What is a Charter School?
When you think of the word charter, a boat or bus for exclusive use may come to mind, but a charter school is different. Charter schools are part of the public education system and are tuition free, yet they are different from other public schools. While a charter school may receive public funds, it is exempt from various rules, regulations and statutes that apply to typical public schools. In exchange, the school is obliged to measure and achieve specific results (accountabilities that are set forth in each school's charter). The people who draft the charter may be teachers, parents, non-profit groups, universities, activists and even government entities.
More adult than fledgling, the charter school concept originated in 1988 and Minnesota was the first state to enact a charter school law in 1991. About 55 percent of today's charter schools feature performance pay structures, seventy percent offer a specific instructional theme, and about thirty percent are dedicated to propelling kids into college. Beyond that, many of the nation's charter schools are earmarked by decreased class size, extended hours, increased family engagement, and lower student attrition.
The Local Landscape
The Connecticut State Department of Education (CSDE) aids families in understanding and exploring their alternatives, through physical Regional School Choice offices and through online handbooks.
Parents are encouraged to visit www.choiceeducation.org or www.sde.ct.gov, as well as The National Center for Educational Reform database: www.FindYourCharterSchool.com
The ability for parents and students to choose from educational alternatives has been part of State policy for more than 10 years. In 1999, in response to the emerging needs of urban and suburban students, Connecticut's Open Choice Program was initiated
.
This program arms students with options that guarantee them a high quality, accessible education, and also reduces isolation for minority students. Under Open Choice, students have magnet school, state technical school, co-op grant program and charter school choices at their disposal.
This state's first magnet school opened in 1991 and the first charter in 1997. As of 2008, there were 18 charter schools in Connecticut. Charter high schools are situated in Fairfield, Hartford, Litchfield, and New Haven counties. Both middle school and elementary charters are located in Hartford, New Haven, Fairfield, and New London.
Progressive Change Continues
"We talk frequently about the problems plaguing America's education system," says Jean Allen, President of the Center for Educational Reform. "Charter schools and school choice demonstrate what's working in American education." Allen believes arming families with knowledge helps them to choose wisely. She also advocates lifting the cap on the number of charter schools (legislation that is currently being debated in New York City).
US News and World Report recently reported that more than $4 billion has been set aside for President Obama's "Race to the Top" program, which rewards states that embrace school reform. The news magazine cited opening more charter schools as one way to foster positive change. Another prime example of reform is instituting teacher incentive pay programs in public school districts. This concept is now on the table in New Haven.
Is a Charter School the Best Choice for Your Child?
All of this stir about charters and educational change may leave families wondering what to do, and how to know where their child will flourish. Only a parent can say, since she knows what kinds of ways her child learns best. Time and attention are usually greater in small class settings and charter schools are often smaller. However, many children excel in traditional public schools-in fact, recent comparisons of charter and public schools revealed some districts showed little difference in annual assessment test scores.
Dr. Lonny J Behar, a specialist in child and adolescent psychiatry, notes "When parents are in the fortunate position of being able to help choose a school for their child, I urge them to focus on what is the best fit for the student." He goes on to specify factors parents should weigh, such as if the school has strong programs in their area of interest (music, technology, sports, writing, etc.), whether the school offers advanced placement classes, and if the presence or lack of diversity mirrors the family's values. He advises parents to ask specific questions, "Is there special assistance for students who are struggling academically or emotionally?" and "What feedback do parents receive regarding their child's performance, especially when there may be a problem?" When it comes to charters, as with any school, parents must do their homework.