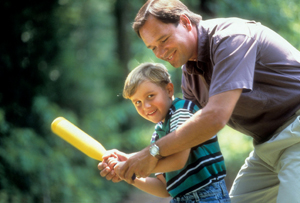 As a parent on the sidelines, it can be challenging to watch your little competitor have a tough day on the field or in the gym. As Janetta Bohlander, a licensed family therapist in Norwalk notes, "In any sport we have good days and bad days. That is just the way it goes." But children don't always have such perspective. It's not easy to be the last one picked for a team, say, or to be the kid who strikes out in the bottom of the ninth inning for a loss. It is the parent's role to help a child navigate the emotional fallout from such disappointing experiences. Remember that these heart-wrenching moments for you can also be valuable life lessons for your kids. To help you handle them, we asked Bohlander and other local experts to answer the following question:
How should I handle it when my child is frustrated or upset after a particularly bad day with sports?
Advice from sports experts in the Fairfield County, CT, area:
"I think the best thing a parent can be at these times is a sounding board. Listen, and keep the conversation positive. And remember that it takes courage for kids to go out and allow themselves to be judged when it comes to sports performance, especially at the younger ages. The healthy reality is that the world is a competitive place. If more parents tried to help their kids work their way through those issues instead of trying to solve problems for them, we would see better emotional development. Striving to become better and enjoying challenges is imperative for long-term success."
-Rich Lee, program director, Wakeman Boys & Girls Club, Southport, CT

"When I was in high school, I had a particularly terrible game while trying to make a team: On my first pass, the ball went off my fingertips and out of bounds. The next time I got the ball, I tried to dribble up the sideline but lost possession. It didn't get any better after that! I was pretty devastated, but my dad told me not to let one experience dictate. 'Don't forget how hard you've worked up to this point.' He pointed out that I had more games to show what I could do, and reiterated, 'I know what you have inside you.' That experience had a major impact on me, and I reflect on that when I see kids struggle now. Usually disappointment comes from a lack of confidence, and being picked last for a team definitely doesn't help that (no matter how old you are). But the best advice I can offer is not to take it personally, and always stay positive. Instead of asking, 'Why was I the last one to get picked?' instead think constructively and say, 'Boy, they are really going to wish they chose me!' Although it may not prove to be true at that moment, you are putting yourself in a better mental frame of mind for sports."
-Andy Tremaglio, program director, lacrosse, Wakeman Girls & Boys Club, Southport, NY
"Sports for children are often taken very seriously by both parents and children, especially in this area. Dealing with bad days is all about perspective, seeing the big picture. I help children count the number of games they have played in their lives, and then how many of those were won or lost. In most cases the number of losses or bad days is very small when compared to the total number. I also talk about how each of us has strengths and weaknesses. Some people are very good at sports and others are very good in math. This is a time to help your child see all of his or her strengths. At home I go so far as asking my 11-year-old how to spell something (my weakness) so she gets the message that we all have strong areas and not so strong areas. If you happen to have a sports book on records, you might mention how many times a famous baseball player struck out but still had the most home runs, or how many experiments Ben Franklin did before he invented electricity. We can also try to teach positive 'self talk' such as, 'That's okay, the next time I will hit the ball,' or 'At least I am getting some good exercise!' This will help kids develop cognitive skills that will help them as they grow, as well."
-Janetta Bohlander, LMFT, family therapist, Norwalk, CT
Do you have kids heading off to summer camp? Learn how to deal with the inevitable separation anxiety, and find other great advice from experts in your area at NYMetroParents.com/AskTheExperts.