You Can Do It!
We asked child experts in Fairfield County, CT, for their best advice on how to instill and cultivate self confidence in children.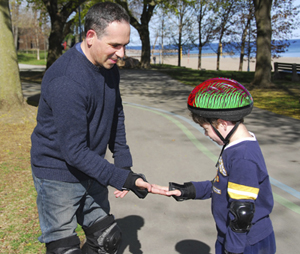 Experts agree that self-confidence is one of the most important contributors to good mental health for any individual, and the earlier you instill this trait in your child, the better his chance of success in many areas of life.
In addition to setting a good example for your child, one of the keys to fostering self-confidence is to genuinely support your child's efforts-even if the outcome of those efforts is less than perfect. "If a child has worked hard, that should be acknowledged. That is what motivates children to keep trying," says Siobhan Powers Streams, director of Landmark of Ridgefield Academy in Westport, CT. It's important to keep in mind, though, that encouragement and flattery are two different things, and the latter can actually harm your child's self-confidence in the long run.
"I believe that encouragement, rather than praise, is most helpful in developing healthy self-esteem in children," Powers Streams says. "Praise is evaluative and teaches the child to seek the approval of others, while encouragement teaches the child to value herself and the efforts that she makes. As a parent, your goal is to help your child develop the confidence and sense of competence that will allow her to make good decisions and not need the approval of others."
Read on for more advice from local experts on how to instill and cultivate self-confidence in your child.
What is your best advice for raising self-confident children?
"Authentic self-confidence stems from self-knowledge and self-control, which arise from a sense of competence in managing one's interior world. Parents should encourage their children to explore, ask them to do real work in support of the family/community, and praise them in a way that matches their efforts and intentions."
-Mark Dansereau, co-head, Connecticut Friends School, Wilton
"Encouraging a child by saying, 'You really put a lot of effort into this project' validates the child's work ethic rather than the grade, which is a measure of the teacher's approval. If a child has worked hard, that should be acknowledged, even if the outcome was less than perfect; that is what motivates children to keep trying.
Listening to your children and letting them know that you love them for who they are will also help develop a healthy self-esteem.
Another important component is helping children feel competent by allowing them to do things for themselves. When parents give children responsibilities, it shows that they believe in them enough to let them work out some of their own problems. This is also crucial to helping your child develop coping skills. Even two-year-olds love to say 'I can do it myself,' so let them try (as long as it's safe!). For example: If they spill their juice, they can help wipe it up. Part of learning to feel okay about yourself is learning that it is okay to make mistakes."
-Siobhan Powers Streams, director, Landmark of Ridgefield Academy, Westport
"I believe the best way to raise a child who exhibits self-confidence is by teaching him independence from the beginning. One way you can do this is by allowing your toddler to complete daily tasks with little parental assistance. Although at times it may be more work for you, the result is worth all of the messes and headaches because it will help your child accomplish a sense of pride and mastery. For example, you can let your child dress himself in the morning or allow him to feed himself at a meal. As your child discovers that he can in fact problem-solve on his own, he will begin to show self-confidence. This will be evidenced when your child explores new environments with a sense of adventure rather than fear."
-Brittany W. Kelley, MSW, LCSW, Bethel
"Raising self-confident children starts at a young age. Parents should give children the opportunity to do things for themselves, which will empower them to take risks and figure out how to get their needs met. The truth is that children are much more capable than their parents and caregivers give them credit for, and if we give them the tools to accomplish things on their own-such as putting on their own jacket or using their own words to ask for help-they will gain lifelong skills."
-Ann Hirsch, director, Landmark of Ridgefield Academy, Redding