Stamford CT's Kiddie Kitchen, known for its cooking parties, is now offering a culinary summer camp program that teaches kids all about breakfast food, international food, and grilling.
The Kiddie Kitchen, which has offered cooking parties to the Fairfield County, CT community since 2007, launched a new summer camp program now running through August 25.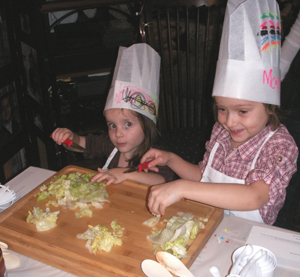 The camp, which is held at the OnTheMarc Kitchen in Stamford, CT allows children to explore three types of cuisine: breakfast food, international food, and grilling. Children can sign up based on availability for four-day sessions that focus on one of these categories. During Breakfast Fun, kids cook their favorite breakfast foods, including frittatas, home fries, and stuffed French toast. During International Cuisine classes, children make dishes from a new culture each day, experimenting with Asian, Greek, and Spanish fare. Summer Grilling classes, which require more advanced skills, are available to older children.
While children learn all about cooking, the camp also teaches kids skills that extend beyond the kitchen. "They learn about communication, cooking safety, paying attention, measurements, and nutrition," explains owner Neena Perez, a certified chef with four years of experience in teaching children. "They have to rationalize and think on their feet. These are good life skills."
The Kiddie Kitchen camp is located at 47 Larkin Street #11 in Stamford, CT. For more information, visit its business page.