Make and Mingle, a studio where you can design your own fabric creations, moved to Westport, CT. The new space is "very glammed up" and is stocked with a variety of supplies.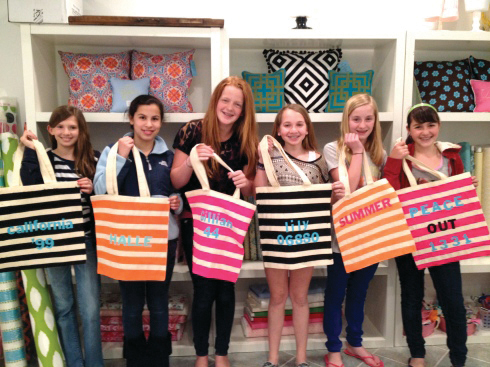 Alexcia Patterson, co-owner and creator of Make and Mingle, loves seeing her customers prove themselves wrong. "People come in saying they're not creative, but they leave making something beautiful," Patterson says. Make and Mingle is a design studio where kids can "tap into their inner designer." The store provides all of the materials to customize or create anything fabric-based including Moleskin covers, jewelry, tote bags, and clothing. All the customer needs to bring is creativity.
Make and Mingle recently moved from Fairfield to Westport. Patterson describes the new space as "very glammed up" and says it is stocked with a variety of supplies including American Apparel t-shirts and Bellman Geller stationary. The studio just introduced a number of boho-inspired projects targeted to teen designers. In addition to drop-in visits, Make and Mingle is available for play-dates, birthday parties, and even special ladies' nights for moms. On June 11, the studio is hosting a book signing with Denyse Schmidt, author of Denyse Schmidt Quilts, 30 Colorful Quilt and Patchwork Projects.