Wilton, CT, resident and former stay-at-home-mom JoAnn LoGiurato turned her passion for wine into an events business called Dancing on Grapes. We sat down with LoGiurato to discuss how she found her niche, how she juggles work and family life, and what's next for her business.

Quick Stats:

JoAnn LoGiurato and her husband Mark live in Wilton with their two sons, Christopher, 15, and Michael, 11.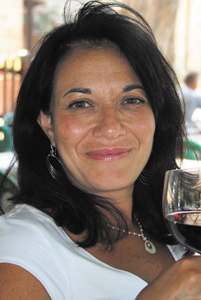 Like fine wine, a good opportunity needs time to mature. In her previous career working for the pharmaceutical industry, JoAnn LoGiurato entertained clients at upscale restaurants and world-renowned wineries, developing a deep appreciation for wine in the process. Although she retired after 15 years to raise her sons, she continued to educate herself about wine by taking courses at Norwalk Community College and NYU while attending many wine-tasting events. Armed with passion and knowledge, she started Dancing on Grapes, an events business that educates women about wine and how to pair it with different foods. You have to wonder if LoGiurato's enthusiasm is part of her DNA. Her Sicilian grandfather not only made his own wine but the barrels in which they were aged. She discusses how she was able to envision a career opportunity where most people see only a leisurely pursuit.
What motivated you to get your Wine and Spirits Education Trust Certification?
I did it to advance the passion. The only intention I had was to learn more about wine because I liked it so much. It was a time in my life when I really felt like I needed something beyond being a mom.
How did you make the transition from hobby to career?
A friend who makes and sells jewelry was having an event, but didn't want to make it just about the jewelry. She asked me to set up a little bar so when guests came to get a glass of wine, I could talk to them about what they were drinking. As I spoke to the women there, I realized that they were eager to know more about wine, and I was happy to share my passion with them. That pushed me over the edge and hence my business began.
When you started Dancing on Grapes in 2004, why did you tailor your wine events towards women?
When you start a business you have to have a niche that makes you unique. It struck me that there was a need among women like myself who entertain or take clients out to dinner, who didn't want the wine menu to go to someone else. I did a little research online and found that about 60 percent of all wine purchases are made by women.
How has your business evolved?
I don't cater to just women anymore. I've also been doing corporate events. I have done wine tasting events for Pepperidge Farm, Morgan Stanley and Kellogg Business School Alumni. The wine industry has changed as well. There are so many emerging wine growing regions, like Slovenia and Brazil, making great wine.
How do you differentiate your business from similar businesses?
This isn't rote. I don't do the same event each time. It's fun for me to get creative with wine tastings. I can come up with a gazillion ideas. I tailor each event to the needs of my clients and whatever the topic is. I did a fundraiser for the Wilton Historical Society where I picked wines from the regions of France that Thomas Jefferson would have sampled during his 6-month visit. I recently did a blind tasting called Do Expensive Wines Really Taste Better? We compared value wines with expensive wines and the participants were surprised at which wines they liked. A future idea that I'd like to try would be to pair foods and wines with zodiac signs.
Since starting your business, has it gotten easier to balance family and career?
It was a little more hectic when the boys were younger. Sometimes my tasting events were at night, around the time for feeding, baths and getting ready for bed. My husband was really supportive and provided the help I needed. Now the boys help me copy handouts, pack up the wines and put them in the car. It's heavy work so that's helpful.
What advice can you give other moms wanting to start their own business?
Do something you enjoy because in the beginning you're doing a lot of leg work and not getting compensated. You have to accept the fact that you're doing something that you love and you're doing it in a way that works into your family life. When you work full time, you forfeit your personal being in some way. You can't exercise, it's hard to have a social life, you give up family time. Initially you may not be making the kind of money you were making before, but all these other things mean so much because you have to look at life holistically. It balances out.
Where did you come up with the name Dancing on Grapes?
One of my other passions in life is to dance. Dancing is fun and it's light and it makes you feel good. I wanted my business to be that way too.
For more information about Dancing on Grapes, visit www.dancingongrapes.com.