An entrepreneur and mom of three, Alison Rhodes (also known as The Safety Mom) started her own business called Safety Mom Solutions to teach parents how to make their homes as safe as possible for their babies. We sat down with Rhodes to discuss her career change, her cause, and how she juggles work and family.

Quick Stats: Alison Rhodes lives in Wilton, CT, with her three children, Spencer, 12, Kelsey, 8, and Hannah, 4.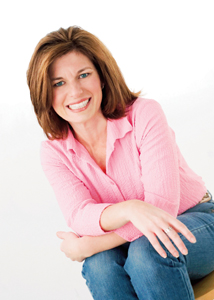 You may have seen her on the Today Show on NBC, heard her on the radio airwaves, or she may have even been to your home, evaluating and discussing how to make it as safe as possible for your baby. Alison Rhodes, a.k.a. The Safety Mom, is always on the go in the name of keeping children safe.
After losing her first child to Sudden Infant Death Syndrome (SIDS), Rhodes felt compelled to help other parents avoid experiencing the grief she suffered. She left a successful career in public relations, had three more children, and started her baby-proofing business, Safety Mom Solutions. And in her capacity as The Safety Mom, Rhodes acts as spokesperson for various safety products and hosts a weekly radio show.
Running two businesses while raising three children isn't easy, but this mom entrepreneur exudes the energy and confidence necessary to pull it all off, without even a hint of sweat.
What was your previous career?
AR: I started my own public relations firm for commercial production and high-end special effects. I knew I eventually wanted to move back to the east coast to be around my parents, so I sold it to a larger PR firm. Back east I ran the consumer group of one of the world's largest public relations firms for 10 years.
How did Safety Solutions get started?
Unfortunately my first child died of Sudden Infant Death Syndrome in 1997. It was an absolute tragedy. But it pushed me on a mission towards what I was supposed to do with my life. I loved my job, but I needed to do something that was more fulfilling.
Can you describe Safety Solutions?
We go into people's homes and look at all the safety hazards from outside to inside. We'll do a whole consultation and then make recommendations. I try and make them think about things they might not have thought about before. So for example, it's not only toxins under the kitchen cabinet, but mouthwash or hair gel. They decide what they can do themselves. But there's often a lot they can't, so I'll come back with a team and do it.
Tell us about your media personality as The Safety Mom.
I'm a spokesperson for companies selling safety products geared towards babies, young children, and teenagers. I will go anywhere, from working with small mom entrepreneurs to bring their products to market to larger companies that are often run by men. They don't always know what moms really care about. I'm able to take those brand messages and translate them into 'momspeak.' Right now I'm talking to a company with a program that shuts down a child's phone while they're driving. I'm working with another company that places a mechanism onto your seatbelt and prevents your car from starting if your teens aren't buckled.
How did you get into radio?
I've made so many connections over the years. A colleague came to ask if I'd like my own radio show. The show is called "Keeping It Together." It's on Wednesdays at noon on Toginet.com. It's geared towards helping moms take care of themselves while dealing with issues concerning their kids.
How do you juggle work and family?
When I was at the PR firm, I worked a lot, from 7:30 in the morning to 7:00 at night, and I was never home. Now I'm fortunate enough to be able to get up at 5am and work until my kids wake up at 8. I'll work again in the evening after they go to bed. During the day, I try to carve out my schedule so I can take my kids to their activities. My iPhone has become my office.
Do you have any advice for moms with aspirations to start their own businesses?
Don't be afraid to follow your passion. Entrepreneurs are the backbone of this country. You don't necessarily need a big budget to start out with. Ask for help. There are so many great women's networks and small business support networks. The thing that I learned, especially this past year, is barter. Everybody is looking for something - so use your talents to barter with somebody else.