Mom and entrepreneur Cindy Hartog of Westport, CT, started Cindy's Sous Chefs after discovering her passion for the culinary arts. We sat down with Hartog to find out what inspires her, how she got the business started, and what advice she has for other creative moms.
Lights...Camera...Cook!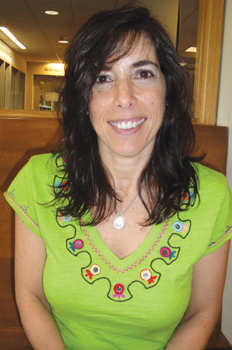 Cindy Hartog didn't follow a very direct career path. With early degrees in film and television and a Masters in Educational Theater, she could have easily become a starving artist. Quite the opposite came true. After getting married and having three children, she decided to go back to school to get a degree in culinary arts. As if baking her career, she mixed the main ingredients - theater, education, and food - to create Cindy's Sous Chefs, a cooking-events business specifically designed for children. Whether it's a cooking class or a birthday party, Cindy holds her young audience's attention by injecting a dramatic flair into every event. No one ever falls asleep in their soup when Cindy is in the spotlight.
Quick Stats: Cindy lives in Westport, CT, with her husband Marc and three daughters: Rachel, 19, Danielle, 16, and Deanna, 12.
Can you tell us a little about your background?
I'm originally from Manhattan. I went to NYU and got my undergraduate degree in film and television, then went back and got my Masters in Educational Theater. I would have gone into food at the time I went to college but it really wasn't very popular then. I did a lot of theater, and tried to work professionally for a while, but the rejection was a little too much for me. I worked for a company called The Creative Arts Team, which was a private organization that developed educational programs. I worked with a partner and we would go out to schools in the Bronx and in Brooklyn and do workshops to increase learning skills and self-image. When I moved to Westport, I taught pre-school kids at Temple Israel on and off for 14 years.
In 2005 you went back to school for your culinary degree. What prompted that decision?
My father always wanted to go to Paris but he became ill and never did get the chance to go. It hit me that life is short - and if you're going to dream about something forever and it never happens, then it's a waste of precious time. So I told my husband I wanted to go to culinary school. It meant leaving at 4:30 in the morning and him having to take the kids to school, but he was fine with that.
How did the idea for Cindy's Sous Chefs come about?
At Temple Israel, I did a lot of cooking and drama with the kids. When I left to go back to school I had students who didn't want to see me go, so the parents asked if I'd do a cooking class. As the cooking classes started to grow, I came up with a birthday party concept, which has really taken off. I probably do three birthdays a weekend.
Can you explain how you combine food and performing at these birthday parties?
I have different party themes. For example, if we do Italian, we'll make pasta dough from scratch with a beautiful old-fashioned Italian hand-cranked pasta machine that all the kids get to try. We'll make homemade tortillas at a Mexican party. There's a Japanese theme and we'll make dumplings from scratch. During the party, we'll do a mock television show along the lines of a Food Network program. I'm the host of the show, the guests are the audience, and the birthday child is the guest star. I interview them and they take questions from the audience. It's all very improvisational, but the birthday kids love it. They get to be the center of attention. There are so many birthdays where you don't even know who the birthday child is.
Why do you think the combination of cooking and performing has worked so well for you?
I think it's an adrenaline thing. Cooking for a group is just like performing for a group. You get this positive feedback. It fulfills the need to get applause and hear people say that you did a great job.
Do you enjoy working with children?
Being with kids comes naturally to me. My patience level is higher than anyone else I know. I'm basically a kid in an adult's body. I may be forced to live in an adult world with adult responsibilities, but working with kids allows me to be one myself again.
How do your children get involved with Cindy's Sous Chefs?
My 16-year-old, Danielle, is my permanent assistant. She pretty much does everything with me. My youngest, Deanna, helps out with kids who are younger than she is. Most parents love the idea because their kids like having the older kids there.
Any words of wisdom for moms wanting to start their own business?
This economic climate may not be a great time to do it, but then again, I don't believe in putting things off because we don't know what tomorrow brings. If you've got the energy, the personality, the zest, the perseverance, and the creativity, then opening your own business is for you.
For more information on Cindy's Sous Chefs visit www.cindyssouschefs.com.