Cynthia Gibb, a Golden Globe-nominated actress and mother of three, has taken her four decades of acting experience to the classroom. She now gives acting and vocal lessons in her hometown of Westport, CT. We sat down with Gibbs to discuss this new direction and find out how she juggles work and family life.
Quick Facts: Cynthia Gibb lives in Westport. She has three children: Emma, Ian, and Audrey.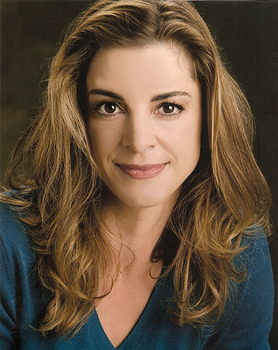 Cynthia Gibb has a familiar face. It may take a minute before you recognize the Golden Globe-nominated actress who has starred in film, TV, and theater. She's played such diverse roles as Karen Carpenter, Gypsy Rose Lee, and Holly on the television show Fame. She continues to act, most recently on cable television in the movie Accused at 17, and in the upcoming Nanny for Christmas, due out in December. Now, in her fourth decade of working in the entertainment business, this actress has taken on her latest role: teacher. Cynthia has decided to share what she has learned, and continues to learn, by giving acting and vocal lessons. With the popularity of Glee, and school productions becoming increasingly professional, her timing is spot on.
Can you explain how you got into acting?
When I was 14 I was signed by the Ford Modeling Agency. I started getting sent out on commercials because it's a natural progression. When I was 15, I got a small part in Stardust Memories, the Woody Allen movie. I was supposed to go to Middlebury College, but a month before I would have left to go to school I got a two-year contract on Search for Tomorrow. About a month before that contract was up for renegotiation, the audition for the series Fame came up. I got that job and moved to L.A. in 1983.
Can you explain your business?
I give private acting and vocal lessons in a local dance studio. The ages of my students range from 6-66 and they come with their own agenda. For my little ones, we match pitches and start training their ear. It's an important foundation for learning any kind of music. Other kids may be trying out for the local school play and need to work on their audition songs or to run monologues. I have students who are trying to make it professionally in New York City. There's a man who's retired from his primary career and now he's a karaoke D.J.
What do you hope your students get from their time with you?
If I give them a good foundation, they can do with it what they want. They can sing or act. Training your voice to sing helps your speaking voice. It builds confidence - and I don't know anybody who doesn't need that in their life.
What inspired you to start this business?
I've had some of the most extraordinary acting and vocal teachers. At this stage in my life, I feel like it's time to give back. It is so satisfying for me to be able to give a student something he or she needs but hasn't been able to find somewhere else, and then to witness the joy and surprise on their face when they achieve their goal.
Do you feel there is synergy between your two careers?
I find that the teaching and the performing serve each other. On the one hand, it keeps me skilled at what I do. When I teach something, I'm reminding myself of what I need to do, and when I leave my students to go work professionally, I bring them back something new.
How are you building up clientele?
I was really fortunate to be interviewed by The Westport News. I would say that one article brought me many students. I recently spoke at the Westport Library. Word-of-mouth is happening through the dance studio where I rent space and through my students who are happy with the results they're getting.
How do you balance work and family?
It's always a juggling act. I never quite feel that I've got all the balls in the air, although I'm trying. I'd say that out of the 99 things a day I remember to do, there's always a hundred that I've forgotten or don't have time to do. I'm trying not to beat myself up over that. I'm trying to learn that my best is good enough.
What impact does your career have on your children?
I know that it's terribly important to show one's children that we are individuals who give them a template to be an individual, to value yourself for your own unique skills and talents. As a woman, I'm showing them that I can take care of myself, I can earn money, I can have a job, and I can help people. I play a role in society and in the community. All of that is a positive influence for them.
What is one bit of business advice you've gotten that has stuck with you?
If you can brand it, you can build it.
If you are a Fairfield County mom with school-age children and you'd like to be featured in our MomBiz column, please email

[email protected]

with information on your business.
Also see: Mompreneur Alison Rhodes, AKA The Safety Mom