Jessica Cohen founded LupRocks, a product placement business, in 2002. We sat down with Cohen to find out how she got the business off the ground, what it's like to juggle work and family life, and where she sees the business heading.
Quick Facts: Cohen grew up in the Hudson Valley area, attended college at the University of Massachusetts Amherst, and now lives in Westport with her husband Leon and two-year-old son Campbell.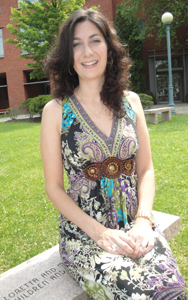 Pulling up for our interview in a pick-up truck, wearing a long, flowing summer dress, Jessica Cohen is an amalgam of art, fashion, and business acumen. With a successful career in the television and movie industry behind her, she is now the owner of LupRocks, a product placement business that matches costume designers from the entertainment industry with fashion and accessory designers. Now, actresses from such shows as The Back Up Plan, The Good Wife, Sex and the City, and Gossip Girl are draped in jewelry and other fashionable items found through LupRocks.com. She has managed to secure her footing in the glamorous world of fashion and entertainment while maintaining a balanced family life in the suburbs.
What was your career prior to starting LupRocks?
I was in the film industry for about eight years as a set decorator working on different children's television productions. For five years I was the set decorator for the PBS show Between the Lions. I won an Emmy for that show in 2002. I also worked on feature films in the art department.
What made you leave the entertainment business and start LupRocks in 2002?
I loved working in the industry, but I decided the hours were too crazy to have any kind of family life, so I was thinking about what my next move would be. I had a passion for jewelry, so I started working for a designer and realized what was missing in the entertainment industry was product placement. There are tons of product placement companies but none of them were focusing on jewelry.
How has your business evolved?
I would work with 20-30 jewelry designers and shop their stuff directly to costume designers. Logistically, it became a nightmare and I couldn't stand another minute of keeping track of hundreds and hundreds of pieces of jewelry over 20 productions. I needed to streamline the process. In 2007, I opened the website, which allows accessory designers to work directly with costume designers. LupRocks provides the opportunity. For the accessory designers, it's a free advertisement and it generates a lot of publicity. In 2008, I expanded beyond jewelry into shoes, handbags, belts, clothing, and luggage.
How do you see LupRocks growing?
I see the business continuing to build up the new categories. Also, I started doing live events where costume designers are invited to view 15-20 brands. It's set up like speed dating, where everybody gets about a five-minute meeting with each brand. I did one in May, which was really successful, and everybody loved it, so I'll probably do three or four of those a year. I think it goes hand-in-hand with the website. It helps the designers maximize their exposure to the industry.
You had the foresight to begin your business before becoming a mom. How is it working out?
In the beginning, I was juggling everything and now I'm starting to balance a little bit. For my son's first year, I had full-time help. I found it extremely overwhelming and felt like I was missing out on my child's life. It was just not working. I'd originally started LupRocks with a business partner and it was both a product placement and public relations business. My partner and I separated the business and I'm now able to keep doing the product placement work part-time. I have help two days a week and the rest of the days I'm able to be with my son. I'm still learning because I still have to work the days I am without help, so I am trying to manage my time.
What is the best part of being a working mom?
I think continuing to work has helped me keep my sense of self and continue to grow and meet new people. Being a mom is rewarding but also, at times, it's exhausting. To be able to take off that mom hat to just work and remember what I did before I was a mom is a really helpful part of life.