Westport mom and entrepreneur Beth Manners has created French and Spanish language programs for young children. Here, Manners tells us how she got the business started, the effect it's had on her family, and what advice she has for other mompreneurs.

Quick Facts: Manners grew up in Great Neck, Long Island, and now lives in Westport with her husband Tim, daughter Holly, 19, and son Spencer, 14.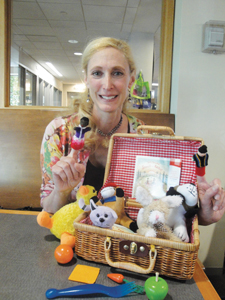 Beth Manners believes that it's never too late to learn something new...but it's a heck of a lot easier when you're young, especially when it comes to learning a new language. With this in mind, Manners created Beth Manners French and Spanish for Kids to teach languages to very young children for both home and school use. Of course, being an entrepreneur has had many upsides for her. There are the obvious benefits: making money, setting her own hours, and commuting to the kitchen table. However, the opportunity to create tolerance among children and spark her own children's entrepreneurial spirit has been the true reward.
What was your career prior to starting Beth Manners French and Spanish for Kids?
BM: I worked for a French company that makes hydroelectric power plants. The company was based in Grenoble, France, but also had factories in Spain and Brazil.
Where does your interest in languages come from?
BM: I'd go to business meetings in Europe and people would be talking Spanish, Italian, and French to each other. When the Americans entered the room, the conversations all had to be in English. I felt the need to be able to speak other languages so I worked on my French. When I became proficient, it broke down barriers.
How did your business get started?
BM: Kids have a facility to learn another language simultaneously. When my daughter was young, I looked for products to teach her French but there wasn't much available. I've always had an entrepreneurial spirit and had this urge to do something on my own. It was a number of years later when I decided to create a CD called Fun French for Kids. Two years later I developed Fun Spanish for Kids.
How would you describe the product?
BM: It's in a story format so kids don't know they're learning. We tell a story of a little American Boy named Bobby and a little French/Spanish girl named Marie. Bobby wants to learn her language so he can play with Marie. They go on a picnic and tell the story of the Three Bears and sing songs. It's inviting without drilling. I use vocabulary over and over in different context to get the repetition.
How has your company grown?
BM: Early on, to promote the product, I would do local in-store events and do little half-hour lessons for children in the store. It was challenging trying to hold their attention for thirty minutes. I would act out a picnic with a big basket and hold up an apple and say 'une pomme.' I had oversized cards with vocabulary words and would play dominos and matching games. From this experience I came up with a school program called Classroom Spanish/French for Kids. Many schools can't afford to have a language teacher in the lower elementary grades. With this program, the classroom teacher puts the CD on; the kids stand in a circle and pack a picnic using props provided in our kit and prompted in French or Spanish by the CD. For our newest product, we adapted the classroom program for use at home. It's called Spanish in a Basket and gives parents the opportunity to have their children learn through play at home.
Has your business had an effect on your children?
BM: It's interesting because my kids have recorded on my CDs; they pack boxes and go to trade shows. Instead of having "bring your daughter and son to work day," they're living it. My daughter is going to do a summer camp program for preschoolers. It's not going to be just about learning Spanish but she's going to feature it as one of her activities using my Classroom Spanish program. She's grown up in a house with entrepreneurs and becoming one herself. My son wants to get involved with the camp as well. He plays guitar so there will be a lot of music.
What has been the most rewarding part of this whole endeavor?
BM: What's more important to me than the bottom line is to spread the idea of early language learning because it breaks down barriers and teaches tolerance.
Do you have any advice for other moms wanting to start their own business?
BM: If you have an idea that you're passionate about, don't give up. There are going to be times when you can get to it and times when you can't because of your responsibilities as a mom. As long as it's something that doesn't have a shelf life, just hang in there, be perseverant.
For more information about Beth Manners French and Spanish for Kids, visit www.bethmanners.com.