Westport, CT, residents Natalie Fabian and Alexandra Wells balance family, friendship, and running their own business.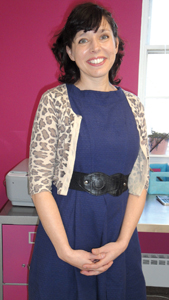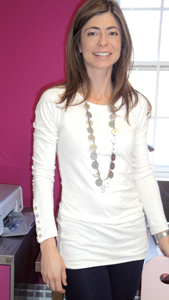 Quick Stats:
Natalie Fabian lives in Westport with her husband Matt and sons Will and Tommy, 10 and 9, respectively.
Alexandra Wells lives in Westport with husband Spencer and children: Emily, 9, Henry, 8, and Tucker, 5.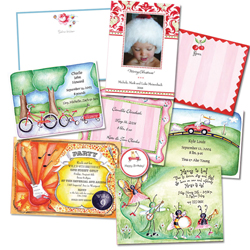 Natalie Fabian and Alexandra Wells grew up a block apart, currently live a mile from each other, and now work side by side. In 2003, working out of their homes, they rolled out Ellie Mim's Social Stationery. Named for their grandmothers, the business started out small, with local retailers and friends as their main customer base. The homespun business quickly outgrew their kitchen tables after Papyrus and Finestationery.com began to sell their custom cards. Fabian and Wells now rent a small space in downtown Westport, but may need to seek bigger digs soon as they are negotiating a licensing deal for their designs with a major national retailer. Fabian describes their cards as vintage and colorful with a handmade look. But behind Ellie Mim's folksy image is a professional operation that soon could put their product into even more mailboxes around the country.
Q&A with Natalie and Alexandra
You both grew up in Naugatuck, Connecticut.
AW: We became best friends in first grade and were pretty much inseparable.
Where did you attend college and what were your careers?
NF: I went to Penn State and then did freelance illustration in New York.
AW: I went to Smith and worked on Wall Street for 10 years.
You both have very defined skills. Where does that come from?
NF: My family is creative. My grandmother, Ellie, is very artistic. My dad is a painter. Everybody was always making something.
AW: My dad has his own business. He's pretty entrepreneurial.
How did Ellie Mim's Social Stationery get started?
AW: My sister was having her first baby and I was planning her shower. Her husband races cars so I had this idea of a vintage race car driven by a stork. I asked Natalie to paint the design. It came out great and people loved it. At that time I was looking for something to do intellectually without returning to the corporate world. Natalie was looking for a creative outlet.
How has the business evolved since then?
AW: In the beginning we were really focused on the children's market so we did birth announcements and party invitations. Over time we expanded into holiday photo cards and that quickly became our bread and butter. From the start we regarded it as a bigger business than it was and have tried to spin it into that.
Have you been able to involve your children?
NF: Yes. They help us with design ideas and themes. We look at what they are interested in and figure that lots of our customers' kids are probably into the same things.
AW: My kids want to know how many cards I've sold. I think because it's tangible. It sends a nice message to them that we do something outside of the home and we strive to do it well.
What suggestions do you have for someone starting her own business?
AW: I think it's really important to have a partner. It helps to bounce ideas off that person and share the workload because it's always so much more work when it's your own business. Having a partner can backfire however, so choose well. We're really lucky because our skill sets are so different and they complement each other so we are not competing.
NF: Don't be afraid to take it slowly because it takes time to build a successful business, especially when you have young children. Now our kids are in school all day, which gives us more time to focus on marketing and on our licensing deals.
Has having a family affected how you run your business?
NF: There are a lot of moms starting their own businesses, so when you're talking to companies, I think they have a bias thinking "here's another one."
AW: I don't make apologies for being a mom. I'm the mom first. We make it work because we're professionals and we're dedicated.
For more information about Ellie Mim's Social Stationery, visit www.elliemims.com.