Introducing Greenwich Play Therapy and Carabiner's Indoor Climbing center: These new Fairfield County, CT, businesses have noteworthy offerings for kids and families.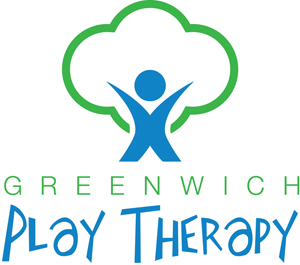 Play with a Purpose
Greenwich Play Therapy, a private psychotherapy practice, opened in January in Cos Cob. Owner Elizabeth O'Brien, LPC, LLC, a family psychotherapist, specializes in play therapy targeted toward children, adolescents, and families.
"When you're working with children, it's important to recognize that they're not going to be able to sit on a couch and talk about the problems that are stressing them out. They don't have that language," O'Brien says. "Play therapy is a natural way to access and communicate the struggles they're dealing with." Children use mediums like creative arts, puppets, and storytelling to express their troubles, and O'Brien uses these means in turn to help them work out those troubles.
O'Brien's specialties include anxiety, behavior and anger management, bereavement and loss, illnesses, trauma and neglect, attachment issues, and parent coaching. These individual parent sessions focus on how parents can help their children. "I don't see children as existing in a vacuum," O'Brien says. "It's important to have a working relationship with the families and to keep an open dialogue with schools and other important relationships in the child's life."
Greenwich Play Therapy is located at 132 East Putnam Avenue, 2 East, Cos Cob. For more information: 914-393-1202.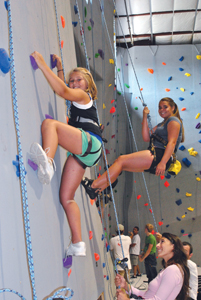 Party Like a Rock Star
Carabiner's Indoor Climbing, an indoor rock climbing facility, opened August 6 in Fairfield. The four-story facility boasts 23,000 square feet of climbing space. It joins a sister gym located in New Bedford, MA-the largest indoor rock climbing gym in the U.S.
"We have something for every level of ability," says Steve Caton, owner of both facilities. He adds that there is no age limit for climbing. In addition to flexible courses that can accommodate all levels of climbers, the Fairfield facility offers instructional classes for all ages and abilities, including a course on how to belay and a specialized course for people who have a fear of heights. "For families, it's a great way to share an activity that's technical, goal-oriented, and physical all at once," Caton says.
Carabiner's also houses a rock climbing team, for those ages 6 and up who want to compete, and a rock-climbing club, for those who want to hone their skills without the pressure of competition.
The facility offers birthday party packages, which include instruction and climbing time with trained instructors as well as a party room. Carabiner's is also available for bar/bat mitzvah parties, overnight parties, and scout events.
85 Mill Plain Road, Building T, Fairfield. For more information: 203-416-5500.