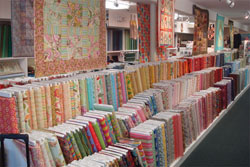 Sewing It Up
    Sewing aficionados and novices alike love The Quilter's Alley,
with its nearly 4,000 bolts of fabric, and sewing classes for all ages.
Learn basic sewing and quilting skills. Beginner thru advanced classes are available, as well as private and semiprivate lessons. The Quilter's Alley is a Husqvarna VIKING Premier sewing machine dealer. They are the designated VIKING dealer for all Martha Stewart employees. They inventory a large selection of sewing books, kits, patterns, and related items, including "sushi rolls" (a group of 40 fabrics made into 3-inch strips, pre-cut for quilting). There is a sewing machine for everyone's budget and skill level. Open Tuesday-Saturday 10am-6pm and Sundays 11am-3pm; closed Mondays. The Quilter's Alley is located at 422 Main Street, Lower Level, Ridgefield. You can also contact them by email ([email protected].), phone, or on their website. Online shopping available 24 hours. 203-431-0023; www.thequiltersalley.com.
N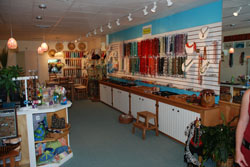 ot Just a Bead Store
   Come to Beadz Boutique, where the possibilities of what you can create are limited only by your imagination. Find the finishing touches to any outfit or a one-of-a-kind gift for someone special. Search through the large assortment of jewelry and thousands of designer and specialty beads, including semi-precious stones, Swarovski crystals, freshwater pearls, turquoise, and specialty beads from Africa and Tibet. In addition, there are selections of sterling and gold findings, pendants, chains, and silk cords. The store also carries boutique items for women and children including designer handbags, scarves, wallets, jewelry boxes, hair accessories, and children's hats. A variety of introductory and advanced beading classes are available for jewelry design, wire wrap, pearl knotting, and chain making assembly. 
   Beadz also offers special events. Celebrate with a themed birthday party, for girls ages 7 to teen; choose from Cinderella Party, Princess Party, Mermaid Party, and Teen Party. Girls will play party games and string beads and charms to design necklaces and wire bracelets to take home. Ladies Night Out invites women to socialize while designing their own customized jewelry.
   Open Monday-Saturday 11am-5pm, Sunday 12-4pm; Thursdays nights open until 7pm. Beadz Boutique is located at 37 Tokeneke Road, Darien. 203-656-3735. www.beadzboutique.com.
Dirty Blinds? Clean it up!
   If traditional methods of cleaning blinds and shades are too time-consuming, ineffective and damaging, check out dirtyblinds.com. The service provides fast, safe, effective, and state-of-the-art ultrasonic and eco-friendly blind cleaning and window treatment for both residential and commercial establishments. Their ultrasonic cleaning process removes dirt, grime and soot, as well as numerous allergens, such as dust, pollen, mites, bacteria and nicotine, that contribute to health problems. All of dirtyblinds.com's cleaning solutions are biodegradable and environmentally safe. The company also cleans and repairs mini-blinds, vertical blinds, pleated shades, cellular shades, silhouette shades, luminettes, vignettes, faux wood and real wood blinds. The entire inspection, repair and cleaning process is done on site at your home or office, providing a cost-effective way to extend and improve the life and appearance of high value window treatments. Same day service is available. dirtyblinds.com is located at 25 Rockmere Avenue in Old Greenwich. 800-661-4771. www.dirtyblinds.com.