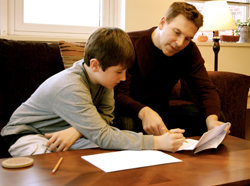 All Under One Roof
The Southfield Center for Development, a multidisciplinary facility catering to children and families, opened in Darien this past October.
The center offers comprehensive diagnostic treatment services for children who have learning, emotional, or medical issues, says Christopher Bogart, the center's executive director, who is also a licensed clinical psychologist and educator. The center houses 10 clinical divisions that focus on a variety of issues, from learning disabilities, to anxiety disorders, to vision difficulties.
What makes the center unique, says Bogart, is that it provides one location where parents can access professionals across all different areas of clinical expertise-from psychologists, to learning specialists, to vision, speech, and language specialists-to address the needs of their children. The clinicians also meet on a regular basis to discuss cases and share clinical research.
"The mission is to provide a collaborative approach to understanding the various issues that can block children and adults from reaching their maximum potential and to create an optimal treatment plan to service those needs," Bogart says.
The Southfield Center for Development, 85 Old Kings Highway North, Darien. 203-202-7654. www.southfieldcenter.com.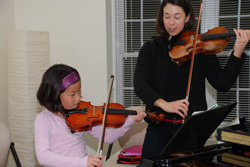 A Noteworthy Neighbor
A new music conservatory, Sharps & Flats, opened in Ridgefield this September offering private lessons and workshops for children and adults in piano, voice, guitar, cello, violin, viola, and woodwinds, including clarinet, flute, and saxophone. These lessons and workshops mainly provide extra support and structured practice time for children already playing an instrument in school, says Joanne Galli, the school's owner, who teaches piano lessons. Galli, who has been playing piano since the age of 9, is one of six teachers at the conservatory, each of who has a different area of musical expertise. Their mission, she says, is to help students have fun while gaining discipline, confidence, self-esteem, and performance skills. "We want to bring our passion for music to our students," says Galli, "and help them have a positive musical experience."
Sharps & Flats also offers a full line of musical instrument rentals at its location. 31 Bailey Avenue, Ridgefield. For more information, including a schedule of classes and more information on instructors, call 203-438-3300 or visit www.sfmusic.biz.