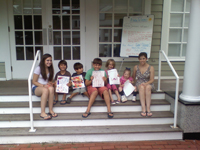 A Way to Learn
Assisting children and adults who live with learning disabilities, executive function disorders, and those on the autism spectrum, A Way to Learn provides highly qualified teachers and supplemental help to those in need. Their primary mission is to foster independence in each learner, and offer tools and strategies for a lifetime of learning success. This fall, Project PAT will be introduced; providing Productive Afterschool Time where children will take part in fun activities while learning social, life, and academic skills. Classes will take place Monday through Friday from 3pm to 6pm. New Social Skills programs will also be launched based on age and need. "Our goal is to reach kids to who learn differently. We want to provide academic and social support services for kids and families with special leaning needs," states Dawn Matera, executive director. The Tutoring and Home Schooling programs remain ongoing and take place Monday through Friday. A Way to Learn is located at175 Post Road West, Westport. 203-557-0939. www.awaytolearn.net.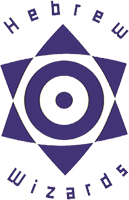 Hebrew Wizards
With the goal of instilling the love of Judaism in children, Hebrew Wizards has developed a fun and innovative way to engage children in their education. The "interwingling" of camp, color wars, and Hebrew learning keeps students interested and active. They master reading skills, converse in Hebrew, act out stories of the bible, and learn prayers by praying with the wizards. The New Wizards Congregation allows children and families to pray together and connect spiritually through Judaism. Families will learn the meaning of all the prayers and feel comfortable participating and "praying from the heart." "Share Shabbat" with them on the first Friday of each month by bringing a pot luck dinner to one of the wizard's homes and enjoying an intimate family service. Hebrew Wizards also prepare students for their coming of age in their Bar/Bat Mitzvah. Located at Arch Street Teen Center, 100 Arch Street, Greenwich. 203-249-4036. www.hebrewizards.com.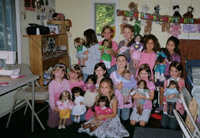 Sew, Create & Celebrate
New to Norwalk is Sew, Create & Celebrate, a sunny studio space offering Boutique Birthday Parties with themes such as sewing, plastercraft, stuff-a-plush, beading, embroidery, or Little Chef. A popular party theme is learning to sew. Children ages 7 and younger learn hand stitching, while those ages 8 and older learn to use the sewing machine to create an American Girl doll outfit, colorful pillow, or purse. At the stuff-a-plush party, each guest chooses a different animal to stuff, decorates its T-shirt and necklace, and takes it home with a birth certificate. During a plastercraft party, children choose two pieces of plaster each from a large selection, paint them with a new paint set, and bring them home. Stuff-a-plush and plastercraft parties can include children as young as age 4. After the projects are completed, the birthday tablecloth is set, treats and birthday cake is enjoyed, and a photo is taken of all of the guests with their work. Parties may be scheduled on weekend afternoons and are held either in the studio or at your location. Sewing lessons are also offered to those 6 and older after school or on Saturday mornings. Both parties and lessons last an hour and a half.
The mission of Sew, Create & Celebrate is to build on a child's natural creative impulse and give each child the skills and confidence to bring their ideas to fruition. Located at 5 Guild Drive in Norwalk; 203-847-2561. www.classesforkids.com.