Check out these new additions to Fairfield County, CT, that cater to kids and families.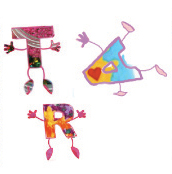 Investigative Art
Artsplorations Studio, which opened June 27 in Old Greenwich, offers craft sessions, jewelry-making classes, and "Arty Parties" for all ages.
Craft sessions for kids and adults will run throughout the summer. Participants make something different each session, says studio owner Victoria Burgess, from favorites like paper flowers and sand art to less traditional projects like paper pulp design and block printing.
These summer sessions mix traditional craft making with exploratory art, says Burgess, who adds that her curriculum is influenced by Reggio Emilia and Montessori approaches to art and learning. "I want [my students] to be creative and express themselves and to really question and explore what art means and what it can be," she says.
In the future, Burgess says she plans to hold after school classes for kids during the week, with themes like Art History and Art and Design.
As for the Arty Parties, Burgess says her motto is "You think it, we create it," meaning that people can ultimately design their own parties, which can be held in the studio or anywhere in Fairfield County.
Sessions will be held this summer at Images, 202 Sound Beach Avenue in Old Greenwich. For more information or to register: 203-253-7333 or www.artsplorationsstudio.com.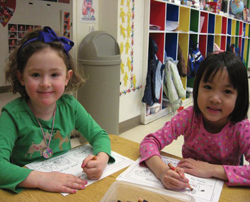 For Little In-Betweeners
First Church Preschool, a non-religious affiliate of the First Congregational Church of Greenwich, has served 3 and 4-year-old children for the past 57 years, and it recently began offering a new pre-kindergarten program.
This Connecting Program, says Director Libby White, caters to children who have finished preschool but are not quite ready for kindergarten, including those that are eligible for kindergarten but are young for their grade. The program is constructed to prepare children for elementary school. "It gives them an extra year to gain confidence and self-assuredness," White says, along with a better grasp of independent skills, phonics, conflict resolution, and decision-making skills.
An important component of the curriculum is academics, White says, including writing, math, and science, but the program also includes a lot of playtime. "Children learn all of their social skills through play," she explains, "so it's a nice balance."
The school also offers a Summer-Fun-Tastic Program for children ages 3-5, which runs through July.
First Church Preschool is located at 108 Sound Beach Avenue, Old Greenwich. For more information, call 203-637-5430 or visit www.firstchurchpreschool.org.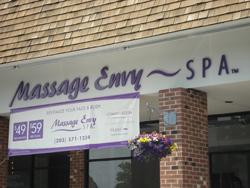 Luxury for Less
Massage Envy Spa of Westport, which opened June 29 in Playhouse Square, has brought affordable, luxurious massages to the Fairfield County community.
Massage therapy is about value and exceptional service, not price, says Shilpa Bolaki, who co-owns the new Westport location with her husband, Kamal Ahuja. "Massages should not only be relaxing," Bolaki says, "but also affordable and convenient."
Massage Envy, a national franchise founded in 2002, sells monthly membership plans that allow guests to receive one pre-paid therapeutic massage per month, plus additional treatments at discounted rates. While non-members can also stop by for the occasional rejuvenating session, Bolaki says that receiving massage therapy on an ongoing basis has numerous physical and emotional benefits. "With the busy lives many parents lead, we can all benefit from a little stress management," she says. "And with our convenient location where most parents usually shop, they are welcome to walk in and get a massage."
Massage Envy's Westport location provides Swedish, deep tissue, hot stone, and pre-natal massages, as well as customized massages to meet individual needs.
Massage Envy Spa is open daily and located at 275 Post Road East, Playhouse Square in Westport. Call 203-571-1234 to pre-book appointments. www.massageenvy.com.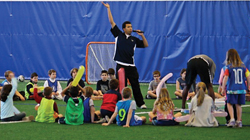 Summer Sports at Sono
Sono Field House, a multi-purpose sports and special event facility that opened in November 2009, is offering a variety of summer sports programs this year for youth and high school-aged athletes, says Owner James Quinn.
The 52,000-square-foot, air-conditioned facility in Norwalk has hosted clinics and league play in lacrosse, football, soccer, and field hockey since it opened. This summer, the field house will incorporate these sports into several Sports Experience day programs for kids ages 5-12. Participants in some of these summer programs, which run through August, can also take advantage of the facility's rock wall and rope course.
Young athletes can also participate in Specialty Sports Programs this summer, Quinn says, including an August session with coaches and players from the Cornell University lacrosse team.
In addition to its sports programs, Sono Field House is available to host special events, like birthday parties and fundraisers, along with corporate events and school field trips.
Located at 365 Martin Luther King Jr. Drive, Norwalk. 203-523-5875. www.sonofieldhouse.com.