Check out these new additions to Fairfield County, CT, taht cater to kids and families.
A New Attitude
Attitude Dance & Active Wear has moved from Wall Street to Westport Avenue in Norwalk. The store's new location, which opened up in January, is more than double the space of the old location, with 1,500 square feet of showroom.
Mother-daughter team Ginny and Kristin Ruggieri originally opened the business in September 2003. The store houses a wide variety of dancewear, along with gymnastic and skating apparel, and has a large selection of dance shoes, from ballet to ballroom, to tap and jazz. Recently, they expanded their inventory of ballroom apparel and menswear, Kristin Ruggieri says.
What sets Attitude Dance & Active Wear apart from other stores is its wide selection of point shoes, according to Ruggieri. "I was a ballet dancer, and I've had a lifelong struggle with trying to find the right shoe," she says. "I now use that experience to help others who have the same problem."
Attitude Dance & Active Wear is now located at 330 Westport Avenue in Norwalk. For more information: 203-838-4002 or www.littlemissattitude.net.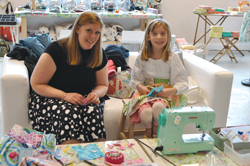 More Than a Fabric Store
Make & Mingle, a fabric and crafts store, opened in downtown Fairfield on December 17. The colorful 1,600-square-foot space is co-owned by Alexcia Patterson-Schroll and sisters Karen Lawson and Natalie Fabian, who describe it as "a new type of fabric store."
"We didn't want it to be the average, hokey fabric store people go in to make quilts," Patterson-Schroll says. "My idea was, 'If Anthropologie was a fabric store, what would it look like?'"
In addition to a large selection of fabrics, kits, and gifts, Make & Mingle offers drop-in craft activities. Visitors can choose from projects such as embellishing ballet flats, making a doll, or decorating a onesie. "It's a cheerful place to sit down, get inspired, and do a project, either big or small," Patterson-Schroll says.
The store also hosts craft and sewing classes for children and adults, as well as birthday parties. Parties feature a themed craft project and include birthday cupcakes and a goody bag for each child.
With its wide selection and friendly atmosphere, the store is appealing to both beginner crafters and experienced sewers.
"We provide everything you need [for your projects] in one spot," Patterson-Schroll says. "And if you need a little bit of help, we're here for that, too."
Make & Mingle is located at 63 Unquowa Road, Fairfield. 203-292-8668. www.makeandmingle.com.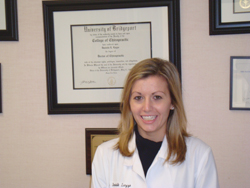 Two Specialties, One Doctor
Danielle Luzzo, D.C., M.S., opened Greenwich Chiropractic and Nutrition in January. Dr. Luzzo is a board-certified chiropractor and nutritionist who offers non-surgical treatment for musculoskeletal and neurological complaints as well as individualized nutrition counseling.
As a chiropractor, Dr. Luzzo treats patients of all ages with conditions from scoliosis and low muscle tone to incorrect posture, and she also offers rehabilitative services. Her office also has special accommodations for women in the later months of pregnancy.
As a nutritionist, Dr. Luzzo works one-on-one with patients and families to establish better eating habits and treat food-related conditions such as diabetes, gastrointestinal disorders, or chronic fatigue syndrome.
While she offers chiropractic and nutrition counseling as separate services, Dr. Luzzo says she believes there is a certain synergy between the two sciences, adding that unhealthy eating habits can often be the root cause of a patient's physical complaint.
Her general philosophy, Dr. Luzzo says, is to address the root of a problem and prevent it from reoccurring through patient education. "My whole philosophy is preventative care - [teaching patients] how to avoid becoming sick," Dr. Luzzo says. "It's not putting a band aid on it, but getting rid of the actual problem so it doesn't come back."
Greenwich Chiropractic and Nutrition is located at 282 Railroad Avenue, Greenwich. 203-661-3444. www.drluzzo.com.