Keep Kids Fashion Forward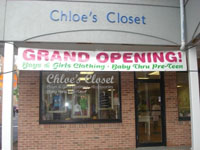 If you're looking for hip, stylish clothing for your fashionable kid, stop in to children's clothing boutique Chloe's Closet. From preppy and sporty, to fun and funky, and even take-me-home-from-the-hospital outfits and assorted onesies, the store carries everything for baby thru pre-teen boys and girls, up to size 14/16. All of the must-have brands can be found, including LA Made, Wes and Willing, Baby Lulu, and Sippy's Babes. Accessories including rattles, blankets, and belts are available. While you shop, children can sit in the play area and enjoy the playhouse, toys, and flat screen television. There is also a selection of jewelry for moms, since they need treats, too. Open Monday-Wednesday 10am-5:30pm, Thursday-Friday 10am-6pm, Saturday 10am-5:30pm. Chloe's Closet is located at Heritage Square, 1700 Post Road, D1, in Fairfield. 203-292-5388; [email protected]
My Gym on the Move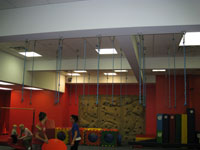 My Gym, the children's fitness center for ages infancy-13 years, has moved its Stamford location to 7 Hyde Street. The new 4,300-square foot facility features My Gyms' state of the art equipment, including balance beam, rock wall, zip lines, and monkey bars. The new space also features a private parking lot and separate party room where birthday parties and other special events can celebrate with pizza and cake. Check out what all the buzz is about during two open houses this month, on March 6, 10am-4pm, and March 7, 9am-12pm. There will be puppets shows, circle time, songs, dances, rides, adventures, games, and special raffles. Call to schedule a free trial class. For more information, call 203-327-3496 or visit www.my-gym.com.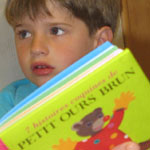 Bonjour, New Classes
French language center Alliance Francaise of Greenwich has recently added a French after-school program for children ages 6-12. Supported by the center's innovative learning method, "Et Toi," students will achieve a cultural and linguistic background in French as they review grammar and learn communication skills, in addition to interacting, reading, singing and having fun with the French language. Classes meet once a week for an hour and a half.
Beginning March 9, the center will have an SAT II French preparation class for students planning to take the SAT II French Subjects Test or French Subject Test with Listening. Classes meet for two hours twice a week. The course focuses on grammar review, vocabulary, idioms and false cognates. Students take sample tests and learn test-taking strategies. For more information on these programs or any of the center's other classes, call 203-629-1340 or visit www.afgreenwich.org.