We've hand-picked the best kids' events in Fairfield County, Connecticut, from our August 2011 calendar. This month, there's plenty of things to do with your brood: Free concerts and kid-friendly shows in the parks and at the libraries, a teddy bear festival at Beardsley Zoo, a new exhibit at the Discovery Museum, and tons of outdoor festivals and family events.
Pig Tales
Get close enough and you may just find yourself being kissed by a pig. In Thrilling Thursdays: Farmer Minor and Daisy the Pig, the farmer and his porky friend share fascinating and sometimes silly stories with the audience. Registration required. August 4. 2pm. FREE. Wilton Public Library, 137 Old Ridgefield Road, Wilton.
Fairytale Concert
Come an hour before A Rock and Read Summer Saturday to get gussied up with Princess Katie and Racer Steve. The band plays rock, reggae, country, dance, funk, swing, and rockabilly in a format that children of all ages find appealing. August 6. 3pm. FREE. Norwalk Library, 1 Belden Avenue, Norwalk.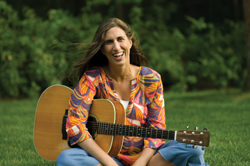 Calling All 'Nessa Groupies
With two awards under their belts for children's CDs, Vanessa Trien and the Jumping Monkeys get toddlers grooving to the beat. August 10. 7pm. FREE. Levitt Pavilion, 40 Jesup Road.
A Couple that Sings Together...
The Zinghoppers is an award-winning band comprised of two teachers who also happen to be married to each other. Their style has been described as "Barney meets the Black Eyed Peas." August 17. 7pm. FREE. Levitt Pavilion, 40 Jesup Road, Westport.
Arr, Matey!
Billy Bones employs poems, songs, and competitions to demonstrate how to talk, laugh, sing, and swashbuckle like a pirate in Pirate School. Kids will encounter silly challenges, engage in nonsensical competitions, hear a pirate poem, and meet a life-like puppet, Billy's furry first mate Rocky. August 17 at 6:30pm. Calf Pasture Beach, 69 Calf Pasture Beach Road, Norwalk, CT.
Bear with Me
If your little one has trouble parting with her teddy bear, take her to Teddy Bear Fest at the Beardsley Zoo. Enjoy crafts and storytelling centered around everyone's favorite bedtime buddy. August 20. 12-3pm. FREE admission for children under age 12 who bring their teddy bear and are accompanied by a paying adult ($12). Beardsley Zoo, 1875 Noble Avenue, Bridgeport.
Et Tu, Ridgefield?
A great way to introduce your children to the Bard is to take them to Shakespeare on the Green, when the Hudson Valley Shakespeare Festival acting company performs A Comedy of Errors under the open sky. Come early and check out the Green Expo first. August 20. Green Expo 12-2pm; performance 2pm. FREE; reservations at 203-438-5795. Ridgefield Playhouse, 80 East Ridge Avenue, Ridgefield.
The Great Outdoors
It wasn't until I met my husband that I learned to appreciate the beauty that nature offers. Now, many of our family activities center around hiking, fishing, biking, and other outside fun. Here are a few activities for you to share with your own family to show them that the outdoors truly is great.
Every day this month, the Maritime Aquarium is offering Marine Life Study Cruises. Educators on board share their knowledge of the sea creatures of the Long Island Sound, some of which are examined by the passengers. Daily at 1pm through August 31. $20.50. Maritime Aquarium, 10 North Water Street, Norwalk.
The Greenwich Audubon Society has lots to do on their schedule this month. For instance, how about bats? You may find them creepy, but bats are a crucial part of our ecosystem, gobbling up thousands of mosquitoes each evening. Learn more about these helpful creatures in Night Hike: In Search of Local Bats. August 5, 7:30-9pm. Or explore shady woodlands with an Audubon naturalist in Family Woodland and River Hike on August 6, 3-4:30pm. A picture is worth a thousand words. Learn how to take pictures of flowers, insects, and other scenic imagery in Nature Photography for All. August 7, 10-11:30am. A Family Pond Exploration allows you to discover the tiny creatures living below the water's surface. Equipment provided. RSVP at 203-869-5272 x221. August 21, 3-4:40pm. All Audubon Society events are $5, children and seniors $3. Greenwich Audubon Society, 613 Riversville Road, Greenwich.
Enjoy nature at night during a Starry Sky Campfire & Night Hike. Walk the center's trails then learn about constellations around a roaring campfire. August 12. 7-8:30pm. $8, ages 3 and under FREE. New Canaan Nature Center, 144 Oenoke Ridge, New Canaan.
Spend the weekend upstate at the Sharon Audubon Festival, offering walks, animal programs, food, and activities. August 13-14. 9am-5pm. Price TBD. Audubon Sharon, 325 Cornwall Bridge Road, Sharon.
Tunes by Tom
Tom Stankus, aka T-Bone, gets his audience moving with his own brand of kid-friendly music, encouraging kids and parents to sing, dance, and clap along. August 31 at 6:30pm. Calf Pasture Beach, 69 Calf Pasture Beach Road, Norwalk, CT.
Planes, Trains and Hot Air Balloons
Satisfy your children's desire to know how things work in From Here to There, the current exhibit at the Discover Museum and Planetarium. The exhibit is divided into three main transportation categories: land, sea, and air. Visitors experience flying in a hovercraft, lifting up in a hot-air balloon, and learning how magnets allow trains to float. Through September 4. Tuesday-Saturday 10am-5pm, Sunday noon-5pm. $9.50, children 3-17 $8, 2 and under FREE. Discover Museum and Planetarium, 4450 Park Avenue, Bridgeport.
For even more family events in Fairfield and the NYC area, visit our Online Calendar
Get the best Fairfield events delivered to your inbox each week when you sign up for our newslestter