One Old Greenwich, CT, resident hopes to prompt long-term change for children in Haiti by starting a children's photography clinic there.
Can the click of a camera shutter be a helpful tool for children in earthquake-devastated Haiti? Darren Ornitz, a travel photographer from Old Greenwich, believes that it can.
Ornitz has traveled far and wide, photographing people and places ranging from Africa to the Middle East. This past January, he made his first trip to Port-au-Prince, Haiti, both as a photographer and as a concerned citizen wanting in some small way to identify where he could make a difference. His aim to this end is to form an NGO (non-governmental organization) that would sponsor a children's photography clinic there.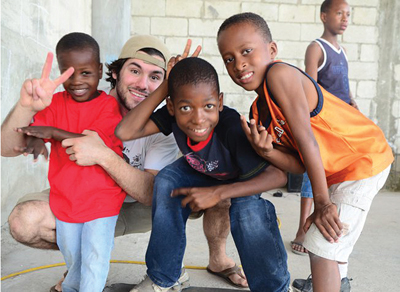 Ornitz traveled to Haiti with Daniel Trust, a native of Rwanda who runs the Daniel Trust Foundation, which aids orphans around the world. "We stayed in Haiti as guests of Child Hope International, an organization that runs a boys and girls orphanage, a school, and a health clinic," says Ornitz. "I was very fortunate because Ivens, the principal of the Child Hope School who is well-respected in that neighborhood, was my guide of sorts."
Plans for this clinic are very specific. Ornitz aims to identify the age group that would attend, as well as whether it would be through Child Hope International or at one of Port-au-Prince's many tent cities that house those displaced by the earthquake. "I am also figuring out whether to give the kids disposable or regular cameras, and hope that camera companies can possibly donate equipment," he adds.
Ornitz found that the children he encountered on his trip were very eager and enthusiastic to try his camera equipment to both take pictures and have their picture taken. However, he says that many of the adults declined having a photo taken out of a sense of pride more than anything. This was something he understood and respected. "They may be thinking that people who take their photos will sell the pictures to profit off of or exploit them," he explains. "There is a fine line between informing and exploiting. This trip was less of a photography mission than a fact-finding trip so I could soak in effective and practical ways to help." He acknowledges that there is a huge distinction between aid relief and long-term development. "Immediate aid is welcome, of course, but most important is not having it breed a sense of dependency in the people," he says. "That's why it's important to focus on long-term development."
Ambitious as Ornitz' photography project may be, he has seen firsthand the positive effects of what a camera can accomplish. "The kids I met were so excited to be taking pictures and were so honest with the photos they took," he says. "I hope that this project can perhaps give them a new skill set by learning photography, and help build their confidence. And, who knows, maybe one child will decide to be a photographer down the road."
Ornitz welcomes suggestions and ideas. He can be reached at [email protected].