Related: African Penguins, maritime aquarium,




Find the top things to do this month with kids in the NYC area in our Calendar of Events



I normally avoid going into a pet store or animal shelter for fear of adding to my already brimming household. But I dare anyone to see African Penguins, the new exhibit at the Maritime Aquarium, and not want to take one of these adorable birds home!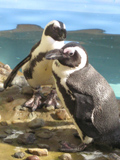 During our visit to the Aquarium, my daughters and I were treated to a behind-the-scenes tour by aquarist Evelia Rivera for an up-close and very personal visit with the Maritime's newest stars. Evelia explained that although she has never worked with birds before, she is head over heels in love with these little characters. And at least one of them, the male penguin, Moby, reciprocated the feeling. He stood at attention directly in front of Evelia, hanging on her every word.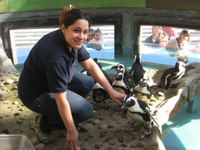 "Penguins mate for life," said Evelia. "Of the eight penguins here at the Maritime, we do have a few bachelors, but they love the humans that they come in contact with." Although the female penguins can still lay eggs, the eggs are not viable since the penguins are beyond their reproductive years.

These adult penguins range in age from 12-26 years and come from South Africa. They measure between 24 and 28 inches tall and weigh anywhere from four to 11 pounds. We normally think of penguins as cold weather birds, braving the ice and freezing waters of the Arctic, but these South African penguins are used to temperature ranges from 44-80 degrees Fahrenheit, so they're right at home in Norwalk. (I hit my head on the very hot heating lamp in the penguins' habitat, so I know firsthand that they like it toasty!) Even though the penguins are warm behind the glass in their habitat, visitors go to a child-friendly outside viewing area to see them frolic in the water and on land.

In addition to the penguins, we passed by the seals that are fed everyday at 1pm as we made our way inside to see the tanks housing freshwater and saltwater fish from Africa. Each aquarium is clearly labeled with facts about the species inside. My youngest daughter was certain that she saw all the fish from the Disney movie, Finding Nemo!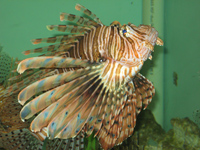 The Maritime also features an area called "Marine Lab," an exhibit about the culture and care of marine animals that includes a marine nursery showcasing the "pre-schoolers" (excuse the pun) that will eventually make their way into the main Aquarium exhibit.

Our tour of Africa concluded with the IMAX movie, Wild Ocean, a symphonic documentary of the annual ocean feeding frenzy off South Africa as billions of sardines migrate up the KwaZulu-Natal coast. Breaching whales, frenzied sharks, herding dolphins, and diving gannets compete in an epic underwater struggle for survival. The production was breathtaking and mesmerizing — opening a tin of sardines will never be the same.

Even though Katie, my 6-year-old, was convinced that we could provide a good home for one of the penguins ("We do have a pool for the penguin to swim in, Mommy!"), she was satisfied with her purchase of a cuddly stuffed version that she later named Tallulah, from the Maritime Aquarium's well-stocked gift shop. African Penguins will charm guests at the Maritime Aquarium until December 2009. The Maritime Aquarium is located at 10 North Street in Norwalk. 203-852-0700; www.maritimeaquarium.org.

Find the top things to do this month with kids in the NYC area in our Calendar of Events


---
Get Your FREE Indoor Activity eGuide!
---
More Regional Highlights Articles
Top 11 Things to Do with Kids in Westchester this November
Best Halloween Events for Kids on Long Island, Nassau County
Best Halloween Events for Kids in Manhattan
Best Halloween Events for Kids in Queens
Best Halloween Events for Kids in Brooklyn

Be a good fellow parent and share this with a friend who would be interested
Local Regional Highlights Sponsors
See Our Regional Highlights Directory