Did you know that a day on Mars is only 10 hours long? Or that the red spot on Jupiter is a vast cyclone that has been spinning for over 150 years?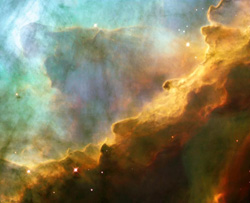 Budding astronomers can learn these facts and more when they blast off to the outer reaches of the universe at the Stamford Museum & Nature Center's latest exhibit, Heavens Above: Photographs of the Universe from the Hubble Space Telescope.  The exhibit features 30 images of the most distant realms of the universe. Named after the astronomer Edwin P. Hubble (1889-1953), the Hubble Space Telescope is a large, space-based observatory which has been in orbit since 1990.  Hubble has revolutionized astronomy by providing unparalleled views of the universe, ranging from our own solar system to extremely remote galaxies forming not long after the Big Bang 13.7 billion years ago.   Awe-inspiring images of nebulas, stellar evolution, star clusters, star deaths and an unending system of galaxies educate viewers in the science of space, but also offer an opportunity to appreciate the artistic beauty of the universe.
   On display in the Bendel Mansion, the exhibit includes Star Crazy!, a collection of chromolithographs by late 19th-century artist and amateur astronomer Etienne Leopold Trouvelot.  Long before Hubble, when Trouvelot worked at Harvard College's Observatory, he had access to the school's refractor telescope, and created images to chronicle the beauty of what he saw through its lens. A table-sized star finder allows visitors to see how the sky's constellations will appear on any given date and time of year. A moon camera from 1967, and a sample of the type of pictures it captured, as well as a model of the Lunar Landing Module used in 1969 by Neil Armstrong and Edwin "Buzz" Aldrin on their Apollo mission, allow young astronomy buffs to get 'up close and personal' to some of the tools used by NASA.
   But it is Hubble's wondrous photographs, such as those of a cyclone on Mars, nebulas' cold gas and dust pillars, and newly forming galaxies that stir the imagination and broaden perspective. Science fiction meets intangible nature in these breathtaking photos, underscoring both the vastness of the universe as well as our own modest existence.
   Also included in the exhibit are ViewSpace, an Internet-fed, self-updating display of the latest presentations in space-based science, and six telescopes, the designs of which date back to 1776 (though none compare to the 22" research scope in the Museum's observatory).  Families will have access to this one each week during Observatory Friday Nights, weather permitting.  The museum will also have extended gallery hours on Friday evenings, and NASA Ambassador Todd Sullivan will be hosting weekly, interactive astronomy programs throughout the month. Heavens Above will be on display until July 29.
   Pick a sunny day, pack a lunch and plan to spend the day at the SM&NC. After returning to Earth, visitors can head outside to an area dubbed "Nature's Playground" and burn off some energy on climbing ropes, swinging benches, multiple slides, tunnels and ladders. Picnic benches and tables make it a great, shady lunch spot though none of the outdoor water fountains were working during my visit. Nature lovers can walk across the meadow to where Heckscher Farm houses cows, peahens, goats and more. Along the way, reptiles, Edie the Otter and chipmunks abound. Finally, a stroll over streams across shaded wooden bridges will help everyone cool down before returning home.
   If you go:  Bendel Mansion, the main building where the museum is located, and the paved trails across the property are all stroller-friendly, and the Center's new Wheels in the Woods trail is accessible to wheelchairs, walkers, strollers and all levels of hikers. Trail guide maps are available and signs throughout help visitors identify the creatures and habitats around them. Staff members are friendly and helpful. While there is a cold drink machine, there is no food service available. Check the website for special events.
Info:
Where: 39 Scofieldtown Road, Stamford, CT.
When: Open daily 9am-5pm; gallery hours are Monday through Saturday, 9am-5pm and on Sunday, 11am-5pm.  Planetarium show the second Sunday of each month at 3pm.
How much: Adults, $3; children, $2; under 5, FREE, in addition to Center admission: Adults, $8; seniors, $6; children 3-17, $4; under 3, FREE. Observatory admission, $3 adults; $2 children.
For more info: (203) 322-1646; www.stamfordmuseum.org..