Commemorate the 10th anniversary of the 9/11 attacks this September at this family-appropriate events in Fairfield County, Connecticut. We've also included several memorial events in NYC that are suitable for the whole family.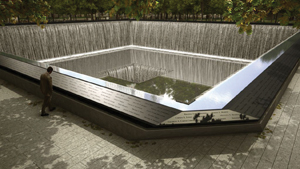 On the tenth anniversary of the September 11 terrorist attacks, the National 9/11 Memorial in Manhattan will open for the victim's families with a commemoration ceremony hosted by the City of New York. Members of the public may begin planning their visits on September 12 via the online reservation system at www.911memorial.org.
Ten years ago, on September 11, the lives of all Americans changed irrevocably. To commemorate the anniversary of the tragedies and to honor the victims, memorial services are taking place in and around our community.
Connecticut Events

At the Fairfield Museum and History Center, clergy from local Jewish, Christian, and Muslim congregations present an interfaith service, Remember and Reflect on the 10th Anniversary of 9/11. Following the service, attendees may join a listening circle to share their own reflections. September 11. 12-4pm. FREE. 1520 Bronson Road, Fairfield, CT.
The Cathedral choir, chamber orchestra, and soloists present Mozart's Requiem, sung in the Richard Maunder completion, in the commemorative program Requiem: The Tenth Anniversary of September 11th 2001. September 11. 4pm. $20-$25; $15 students. Christ Church Cathedral, 45 Church Street, Hartford. For tickets: 860-527-7231; tickets at x112.
NYC Events
To honor members of the New York City Fire Department who perished in the attacks, attend the FDNY 10th Anniversary Memorial Service at St. Patrick's Cathedral in Manhattan. September 10. 2-4pm. St. Patrick's Cathedral, 460 Madison Avenue.
In lower Manhattan, 3,000 flags will be on display in Flags of Honor. September 9-12. 3-9pm. Battery Park Field.
Composer Karl Jenkins conducts his The Armed Man: A Mass for Peace and For the Fallen: In Memoriam Alfryn Jenkins, and composer René Clausen conducts his Memorial, in A Concert of Commemoration, Honoring the 10th Anniversary of 9/11. September 11. 2pm. $20-$100. Avery Fisher Hall, Lincoln Center Plaza, Broadway and 65th Street, Manhattan.
This is the ninth year of the Stephen Siller Tunnel to Towers Run/Walk, established to honor the 343 firefighters and first responders lost on September 11. It recreates the final footsteps of firefighter Stephen Siller, who was last seen running through the Brooklyn Battery Tunnel en route to the World Trade Center. September 25. 9:30am. Brooklyn side of the Brooklyn Battery Tunnel.
Before you go, read How to Talk to Your Kids About 9/11