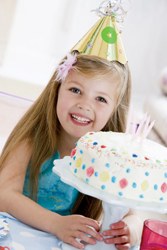 Food at parties seems to be an increasingly challenging issue. Some parents have gone organic, while more kids are diagnosed with allergies and lactose intolerances, and then there is the old-fashioned picky eater. See what advice the experts in your area had for parents about serving the right food at your child's birthday party:
"Serve pizza or ask for a slice with no cheese. If there are allergies to the eggs or milk in our ice cream cake, we give children a popsicle or something similar to compensate."
-Matthew Bottone, Manager of My Three Sons, Norwalk
"Many bakeries offer nut free cakes and more parents are asking if we can recommend some. Moms who have children with dairy allergies or celiac disease tend to send the child to a party with a cupcake or some substitute their child can eat."
-Erica Newman, Owner of The Little Gym, Westport
"Parents who have children with allergies usually bring something for their children to eat. In this day and age, it's nearly impossible to pick something that someone is not allergic to."
-Jim Davis, Manager of Hands on Pottery, Fairfield
"We have a piñata, but we have children ask their parents before eating the candy in case there are nuts or something else they can't eat. Juice boxes are also a good choice because they have less sugar and fruit juice."
-Mark Wilkinson, Owner of Dynamic Martial Arts, Westport
"We talk to the food caterers to make something specific for the allergic child, or we have the parent bring something in. Sometimes we even make arrangements for the entire party to avoid cross contamination."
-Nancy Drago, Owner of Pump It Up, Norwalk
"We don't serve food, we have parents bring it. They know the allergies ahead of time and we suggest parents include on the invitations, 'we will be serving lunch, and please let us know if there are any allergies.' Also, if parents give out goody bags that include candy, we strongly recommend children take them to their parents to make sure everything is safe."
-Jim Schilling, Music Theater of Connecticut, Westport