The Stamford Garden Club recognized the founder of the G.I.V.E. Program as a local leader in environmental education.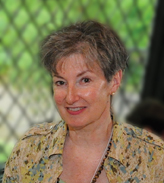 On May 17, the Stamford Garden Club presented Pam Sloane (pictured) with the Elizabeth Abernathy Hull Award for her work teaching children about the environment and inspiring in them an appreciation of the beauty and fragility of our planet. Sloane, a former teacher, is the founder and director of the G.I.V.E. (Green Initiatives for Vegetable Education) Program, a volunteer-based initiative to bring more vegetable gardens into Stamford, CT schools. The program's intention is to educate kids about how foods are produced and the need to nurture the Earth by letting them experience the growing process from seed to table.
The award was presented at the 2nd annual Lettuce Challenge Contest, in which 19 Stamford schools presented the lettuce plants they had grown in their school gardens this spring in hopes of winning best in show.
"Engaging students in planting a seed, discovering the germination process, and the fulfillment of harvesting is a gift of a lifetime," says Marion Glowka, a member of the Stamford Garden Club.
Sloane says she believes a garden should be as much a part of a school's property as a playground or playing field. "How else will our children understand the role of the Earth in the production of our food? How else will they learn to protect it and the life forms it sustains?" she asks. "The bottom line [is to] make learning fun…. Teach a skill that is lifelong and also valuable to the mind, the spirit, and the body. What could be better?"
For more information on the G.I.V.E. Program, visit inthegardenwithgive.blogspot.com.