In November, Stepping Stones Museum in Norwalk, CT, reopened as a LEED Gold Certified building with double the space and new, exciting exhibits for kids.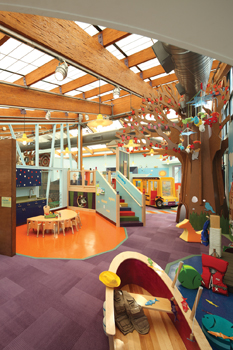 Five years ago, Stepping Stones Museum in Norwalk slowly plotted an ambitious revamping that would be several years in the making. Using environmentally friendly materials, the LEED Gold Certified museum re-opened in November, doubling in size to 22,000 square feet. While you may recognize The ColorCoaster, which has been in the main lobby since the museum's original opening, little else has been left untouched.
Energy Lab, a new exhibit designed to help kids understand and appreciate where energy comes from, is divided into several smaller labs. Interactive exhibits and graphics help demonstrate the sustainable power of water, wind, solar, kinetic, and good old-fashioned manual labor. Another section shows the efforts required to retrieve non-renewable energy sources. Various energies manipulated by visitors help propel colored plastic balls. Children can cover up the solar panel to stop a ball's movement, direct wind to float that ball, race it down a rushing waterway, or toss it into a vortex of spinning water.
Another new exhibit, Tot Town, is more like a city and is a major destination for the three and under set. Designed with the help of early-childhood educators, the space is divided up to address the different stages of learning. Each area is infused with teaching opportunities without overdoing it. Infants and pre-walkers enter into their own zone. Nursery rhymes and songs, soft crawling areas with different textures, alphabet games, a fish tank, a Giant Gymini, and cozy reading areas are just a few of the features designed to expose babies to the basic components of learning in a playful and comforting environment. Toddlers on two feet are encouraged to be more independent by exploring different neighborhood locals. In a section called Home, kids climb up colorful numbered stairs to a tree house with a pretend kitchen. At the Garage, kids fix a car or race it against a friend's. The School Bus offers drivers access to dashboard controls, rolling panels to select a different window scene and seat belts to buckle up. In the Garden, kids find tunnels and nooks like Boozoo's dog house stocked with a dog bed, bowl brush, dog-related books, and of course, Boozoo. The Music and Performance Area allows kids to ham it up on stage with dress-up costumes, musical instruments, mirrors, and a microphone.
Two pre-existing exhibits were relocated within the original part of the building, making them seem more expansive. Build-it explores some of the green environmental practices touched upon in the Energy Lab while familiarizing kids with construction. Healthyville helps kids understand how their body works and ways to keep it healthy. A third pre-renovation exhibit, Rainforest Adventure, has been moved to the Travelling Exhibit Gallery in the new space. Visitors explore different rainforest communities and learn the challenges they face. It will be replaced with a new exhibit in June 2011. The museum expects to host several visiting exhibits in the course of a year.
The sunny Light Gallery leads to a resource center for parents and teachers, a science lab, an art studio and the Multimedia Gallery. Knowing that you may spend more time at Stepping Stones, the museum has thoughtfully expanded their cafeteria to include seating capacity for 100, an expanded menu, and an expansive view of the tent-covered celebration courtyard with its giant checker board, big foam building blocks and bubble exhibit.
And lastly, the museum's website has been upgraded to be more user-friendly. Go there to find more information on special events, exhibit details and age-appropriate activities.
Stepping Stones Museum for Childrenis located at 303 West Avenue(Mathews Park) in Norwalk. For more information: 203-899-0606; www.steppingstonesmuseum.org. Admission is $12; free children under 1. Museum hours are Monday-Sunday, 10am-5pm.
To find activities at Stepping Stones and other great family spots in Fairfield County, CT, visit our Online Calendar of Events.