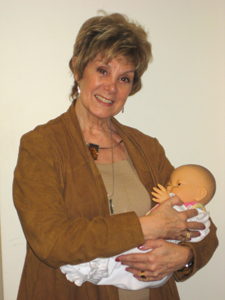 Sterling Care, a home health care agency with a holistic approach, launched its baby care division in September. The agency's mission is to provide its clients with quality home care by focusing on patients' mind, body, and spirit.
For parents with newborns under the age of 12 months, Sterling Care Baby Care Services offers one-to-one, at-home baby care by a specially-trained and certified Sterling Baby Attendant. "The unique aspect about this program is that it's run by certified home care attendants who have 24-hour access to registered nurses," says Stephanie Paulmeno, the program's administrator and clinical director. Services offered include overseeing the safety and well-being of the infant as well as providing household help and companionship.
The certified attendants use a holistic approach to alleviate the stress accompanied by bringing a newborn home, including teaching new parents breathing techniques, meditation, aromatherapy, and scrapbooking. The attendants also help first-time parents learn how to bond with their baby and answer many of the concerns that new parents have. "The program has been very well received by the parents who have used it," Paulmeno says. "We are in the process of training more Sterling Baby Attendants because of the overwhelming positive response."