Related: children, kids, Putnam Cottage, General Israel Putnam, Fairfield, history,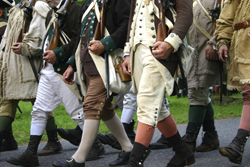 The famous ride of General Israel Putnam is recreated each February in commemoration of his heroic leadership defending the Fairfield County area during the American Revolutionary War. The famous words attributed to Putnam, "Don't shoot till you see the whites of their eyes," have gone down in history. Soldiers in full regalia will skirmish on the Putnam Cottage grounds, and visitors can also tour the cottage. FREE. February 22 (date is tentative, please see website for details). 1pm. Putnam Cottage, 243 East Putnam Avenue, Greenwich. 203-869-9697. www.putnamcottage.org. 
---
Get Your FREE Indoor Activity eGuide!
---
More Recreation/Outings Articles
2010 Nassau Coliseum Fair in Uniondale, NY
DanceAfrica 2011 at BAM: Viva Cuba!
Brooklyn May Calendar Highlights: Family Activities
Spring 2011 Bird Watching Events in Westchester County, NY
Westchester County, NY, May Calendar Highlights: Activities for Families

Be a good fellow parent and share this with a friend who would be interested
Local Recreation/Outings Sponsors
See Our Recreation/Outings Directory