Artist Hannah Perry offers an array of art classes and activities at her new children's art studio, The Giggling Pig, in Shelton, Connecticut.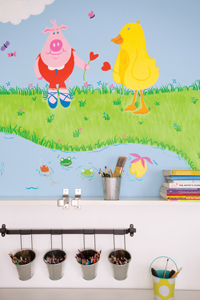 Hannah Perry's lifelong passion for art and children persuaded her to open The Giggling Pig, an art gallery and children's art studio, on May 14 in Shelton, CT.
Perry, an artist and published author, named the shop after a character she created in 2006 from doodles of whimsical pigs inspired by childhood memories of growing up near a farm in England. Her artwork, made up of a range of quirky and vibrant farm animals, comes in the form of original canvas paintings, prints, and greeting cards and is both on display and for sale in the shop.
The Giggling Pig is a place for parents and children of all ages to revel in the joy of arts and crafts through an array of affordable classes that focus on activities like drawing, painting, photography, and clay-making. Perry also offers arts-and-crafts-themed walk-in sessions, one-on-one sessions, group activities, and birthday parties.
"I've worked with children for so long that I feel like I am in touch with what they want to see," says Perry, who has been working professionally with children for 14 years. "I am trying to offer something that is really personal to children and their families."
The Giggling Pig is located at 95 Center Street in Shelton. For more information, call 203-919-1153 or visit www.thegigglingpig.com.
Find more art studios and children's art classes in our local business listings