The Splatter Box art studio held its grand opening June 5 in Westport. In addition to a bright and cheery atmosphere, the studio offers a full range of art classes and workshops as well as art camps, on-site birthday parties, and pottery painting.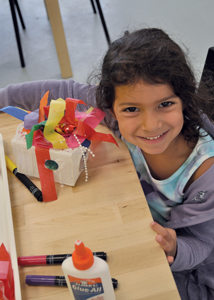 "I've been to typical art studios that offer just clay, just beads, or just fine art. We want to take on everything," says Kristen Nelson, who co-owns The Splatter Box with Erik Sabatelli. Both hold degrees in design from the Massachusetts College of Art & Design as well as a passion for teaching art to children. "We want to take every project, and while they're having fun doing it we also want to make sure they're learning something," says Nelson, who explains that the studio's "SMART" approach is based on the idea that art influences a child's personal, social, physical, and cognitive development.
Classes range from a Moms, Pops, and Tots program for children as young as 20 months (accompanied by a caregiver) to a Social Offerings class for kids ages 9-14 in which students collaborate on an art project and then donate it to a community organization.
Art camps, for kids ages 5 to 9, run in week-long sessions throughout July and August.
The Splatter Box is located at 1252 Post Road East, Westport. For more information: 203-349-5508 or www.splatterboxart.com.