When Sloane Feldman, Loryn Franco, and Heidi Kurlander-Kail — three Fairfield County moms — met at a playgroup, "it was natural that we would gravitate toward each other," says Franco.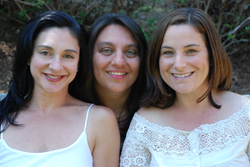 From left to right:  Loryn Franco, Sloane Feldman, Heidi Kurlander-Kail

   All three had become stay-at-home moms but each had left dynamic jobs in the work world.  Feldman's marketing clients had included such brands as Pepsi and CBS-TV.  Franco had worked at Edelman PR. Kurlander-Kail had sold ads for Glamour, Good Housekeeping and Cosmo.  While sitting around at playgroups and birthday parties, "we found ourselves huddled together plotting our exit from the domestic demands at home while knowing that home is where we ultimately belonged."  

   With PR and marketing backgrounds, their thoughts frequently focused on trends, and it wasn't long before they identified one: their own parents — their kids' grandparents — were not just going into a toy store to buy gifts but were asking the moms in advance what were the hot new kid items they could buy to score points big-time.  "We realized that we could make a career out of doing what we love best — shopping for our kids."  Early this year, they started up EverythingGrandkids.com.

   The site, aimed at grandparents, reviews kids products which are searchable under the following categories: Essentials, Toy Store, Health & Safety, Out & About, Investing, Style, Get Creative, and Splurge.

  Recent postings under 'Essentials' included descriptions of sleep sacks (wearable blankets that can't be kicked off during the night), and portable cribs with deluxe versions that offer a bassinet, changing table, motion and sound, a mobile and night-light. 'Toy Store' described the Little Tikes Sand/Sea Table, a two-in-one sand and water table complete with umbrella and sand and water wheel. 'Health & Safety' highlighted the "Medibag", an all-in-one first aid kit. 'Out & About' recommended Baby's 1st Glove, a personalized keepsake that kids can use on the field. 'Investing' showed a great way for kids to learn the value of money with a life-like ATM machine. 'Style' showcased Little Twig's Organic Baby Basics Gift Pack. 'Get Creative' listed holiday crafts; and 'Splurge' featured the Pro Chef Kitchen Set, a toy that replicates a professional gourmet kitchen.  Visitors sign up to receive free email newsletters with the latest product info, and can also visit the archives to see past newsletters.

   The site, its creators explain, is "to have a web-based business that helps our parents and their friends become savvy shoppers while spoiling their grandkids."
   While their web visitors just need to plug in the URL and start browsing, a lot more effort went into setting up the site and the business, however.

   In line with their marketing and sales backgrounds, the women held brainstorming sessions and conducted focus groups with their planned demographic (grandparents, ages 50+).  "That's how we realized their number one source of information came from us (parents).  They wanted to know the new trends in the marketplace, product recommendations, well-trusted brands, innovative gift ideas, and what had changed in the past decade (or quarter of a century).  That's how we developed our categories," explains Franco.

   They then hired a web designer to design a logo and create the feel of the site. Feldman's husband, David, helped them get the site up and running with an outside hosting company; he created the framework and taught Sloane the basic HTML/XTML so that she is able to update the site weekly.  They use an outside email vendor to manage the mailing list and send out the newsletters.

   Keeping on top of the latest hot items might well be perceived as a challenge in itself to most parents, but to the three moms, such investigation fits in perfectly with their new mom lifestyles, says Franco. "Because of our daily exposure to school, playgroups, classes, and other parents, we are constantly hearing about the latest craze, the newest must-have item, or the one thing that we 'have to have' to make our life easier. And it's not just about purchases.  We are constantly talking about the best place for a family vacation, how we are going to afford to send our kids to college, the safest car seat, where to buy cake for a birthday party that won't alienate a kid with an egg allergy, etc., etc."

   They attend the major trade shows, "to keep our pulse on what is new in the market.  Most importantly, we are in the trenches with our own children, so we have first-hand experience with most products that we recommend.  We try to sample all the products that we propose and/or speak to other consumers before suggesting a product or service for our newsletter," Franco explains.
   Feldman lives in Fairfield, and has toddler twin boys. Franco and Kurlander-Kail both live in Westport; Franco has two small sons, and Heidi Kurlander-Kail has two toddlers, a boy and a girl.

   "Some weeks, it is more work than others," Franco admits, but adds, "We all understand that our families are our first priority, which is the beauty of working together.  We get to do something we love and still be able to pick up our kids from school, go to ballet classes, soccer classes, and playgroups.  We are all committed to making EverythingGrandkids successful and each of us is able to do our job when it is most convenient for us. Heidi is a morning person (not necessarily by choice); we get emails from her at 5am. Sloane is the night owl; her emails often come in at 3am, and I'm somewhere in between."