Unzip the down coat, throw off the mittens and hats, and head outside for some springtime events that celebrate the rituals and traditions of the season. Below, we've hand-picked six of the best outdoor activities for families happening this March in Fairfield County, CT.
For even more things to do with kids in Fairfield and the greater NYC area, head to our full, searchable calendar of events.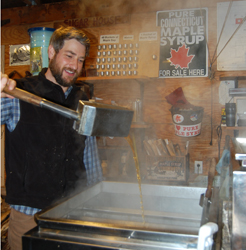 March 3-4



Stop by Heckscher Farm for the annual Maple Sugar Festival Weekend. See how maple trees are tapped for sap and how that sap is transformed into sweet syrup. Plus, make a maple-themed craft, go on a scavenger hunt, and have your face painted. On Saturday, there's a maple syrup cook-off with local chefs, and Sunday visitors can enjoy a pancake brunch ($5) topped with—what else?—syrup!
Fridays, March 9-30



Children in grades kindergarten and higher are invited to join the Garden Club at the Wilton Library. This month, the club prepares for springtime planting. FREE!
March 17



At New Canaan Nature Center's Syrup Saturday & Pancake Breakfast, visitors hit the sugar shack to learn how maple syrup is made, then enjoy the sweet stuff over a short stack of flapjacks or waffles. You can also join naturalists for a hike down Maple Lane to learn tree identification tips, watch a tree-tapping demo and maple sap boil, and make a maple-themed craft to take home.
March 23-24



Celebrate the long relationship between Native Americans and the environment in Spring Thanksgiving: Gifts of the Land and Waters with Reptiles and Music. Learn about wildlife, make fish prints and snake mobiles, and enjoy the musical talents of flute player Hawk Henries.
March 30



Grab your hiking boots and a flashlight for an Amphibian Amble. You'll visit the vernal pools where, once a year, wood frogs, American toads, and spotted salamanders lay their eggs.
March 31



Dress appropriately and bring a basket for Spring Celebration. A hayride takes you to the trails for an egg-hunting hike, then you'll head to the pavilion to color eggs and make nature crafts that celebrate spring