Apple picking makes for a quintessential family weekend getaway or day trip that brings fruitful rewards far after you've left the orchard. Consult our guide to find pick-your-own apple farms in Connecticut, many of which offer fun fall activities like hay rides, cider pressing, and corn mazes.
Take advantage of the crisp fall weather and venture out to the orchards for equally crisp and delicious apples, plucked straight from the tree. Many of the local orchards listed here offer low-hanging branches ideal for your little ones to pick and fill their own bushel of autumn's freshest fruit. While you're there, join in fun farm activities like hayrides, farmers markets, and petting zoos.

Please note: Dates and availability are subject to change. We recommend calling ahead before visiting these farms.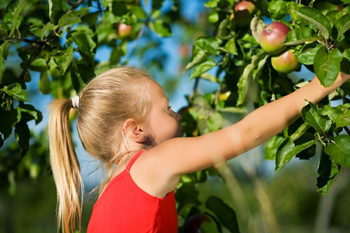 Averill Farm
250 Calhoun St., Washington Depot
860-868-2777

Pick-your-own apples in September and October on a scenic family farm; pick-your-own pears through early October. Open 9:30am-5:30pm daily. Pre-picked fruit, apple cider, hard cider, donuts, and flowers available on the farm through November.

Beardsley's Cider Mill & Orchard, LLC
278 Leavenworth Road (Route 110), Shelton
203-926-1098

Farm opens on Sept. 13; check the website for exact opening date. Apple picking: 10am-5pm weekends. Cash or check only. Dwarf apple trees for easy picking. Cider press on location. Farm store with apple cider and donuts, maple syrup, local honey, pumpkin cheesecake, fruit butter, jams and jellies.


Bishop's Orchards
1355 Boston Post Road, Guilford
203-458-PICK (7425)

Apple picking available from mid-August through late October. Call PYO hotline for daily picking updates on the farm. Raspberry and peach picking also available for the season. Pumpkins start in mid-September. Check out the Bishop's Farm Bakery for homemade sweet treats and Bishop's Orchards Kitchen for delicious prepared entrees. Fresh cider and Bishop's Orchards Winery on site.
Buell's Orchard
108 Crystal Pond Road, Eastford
860-974-1150

Apple picking begins after Labor Day and continues through October, Monday-Saturday 8am-5pm; Sunday 1-5pm. Harvest festival on Oct. 11 and 13. Farm store with a variety of apple items on site.


Dondero Orchards
529 Woodland St., South Glastonbury
860-659-0294

Pick-your-own peaches and plums through September; apples and pears through October, 8am-6pm daily. Bakery with donuts, pies, and other baked goods. Greenhouse with flowers and mulch.

Drazen Orchards
251 Wallingford Road, Cheshire
203-272-7985
Apple picking through October, 10am-6pm daily. Pick-your-own pears, peaches, nectarines, and plums also available. Farm stand with pre-picked fruit, locally grown vegetables, local honey, pies, and cider.

Easy Pickin's Orchard
46 Bailey Road, Enfield
860-763-3276

Pick-your-own apples, pears, and raspberries, Monday-Thursday 9am-12pm (closed Tuesdays); Friday-Sunday 9am-5pm. Vegetable and flower gardens available for picking and cutting.

Ellsworth Hill Orchard & Berry Farm
461 Cornwall Bridge Road (Route 4), Sharon
860-364-0025

Apple picking through October; call for hours. Blueberries and raspberries available for picking while they last. Family-fun hayrides, 3.5-acre corn maze and apple cider for tasting. Pre-picked fruit and vegetables, fresh-baked pies, fresh pretzels, apple cider vinegar, jam, honey, maple syrup, freshly-ground peanut butter and cider donuts available for purchase. Interactive train display in store area.

Hickory Hill Orchards
351 S. Meriden Road (Route 70), Cheshire
203-272-3824

Pick-your-own apples, pears, peaches, and nectarines August through November, 9:30am-5pm daily. Country store with apple cider, donuts, pies, and other baked goods, as well as gourmet foods, open 9:30am-6pm daily. Weekend hayrides.

Horse Listeners Orchard
317 Bebbington Road, Ashford
860-429-5336

Apple picking through October, weekdays 1-6pm; weekends 9am-6pm. Farm store with pies and pre-picked fruits and vegetables. Pony rides, apple cider donuts, and tractor rides available.
Karabin Farms
894 Andrews St., Southington
860-620-0194

Apple and pumpkin picking on weekends through October, 9am-5pm. Store open daily with farm-raised beef products and eggs available for sale. Call for updates on hours.

March Farm
160 Munger Lane, Bethlehem
203-266-7721

Apple and pumpkin picking through October, 10am-6pm daily. Farm market with homegrown fruits and vegetables. Bakery with cider donuts and other baked goods and specialty items. Picnic areas, animal yard, and farm hiking trails.

Rogers Orchards
336 Long Bottom Road, Southington
876 Meriden-Waterbury Road, Southington
860-229-4240

Apple picking Labor Day Weekend through October, Friday-Sunday 10am-5pm. Apple cider donuts, pies, and fruit baskets available at on-site farm store; open daily, August through mid-May.

Scott's Yankee Farmer, LLC
436 Boston Post Road (Route 1), East Lyme
860-739-5209

Apple and pumpkin picking through late October. Open Monday, and Thursday-Friday 11am-5:30pm; weekends 10am-5:30pm. Farm stand open 8am-6pm daily. Wagon rides available on the weekends. 1.5-acre corn maze on-premises.

Silverman's Farm
451 Sport Hill Road, Easton
203-261-3306

Apple picking through mid-October, 9am-4:30pm daily. Pumpkins available mid-September to October. Animal petting park, farm market, florist, greenhouse, and tractor rides through October.

Woodstock Orchards, LLC
494 Route 169, Woodstock
860-928-2225

Apple picking Sept. 1 through mid-October, 9am-6pm daily. Farm stand with pre-picked fruits and vegetables, apple cider, honey, maple syrup, jams and jellies, and Vermont cheese.
Wright's Orchard and Dried Flower Farm
271 S. River Road, Tolland
860-872-1665

Apple picking through October. Pick-your-own pumpkins in October. Farm store with pre-picked fruits and vegetables, cider donuts, and pies. Dried flower and basket barn. Open Monday- Saturday 12:30-5:30pm; Sunday 1-5:30pm.


Beyond CT
Planning a day or weekend trip to Long Island, New Jersey, or Southeast New York? Check out our complete guide to apple picking in the NYC area