PLEASE NOTE: This article was published in 2009. Some information may be outdated. Please call to confirm donation and/or volunteer information for the current year.
---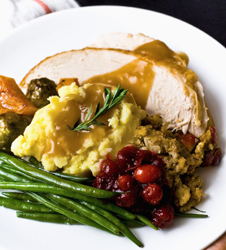 In Connecticut, one out of every five children is hungry or at the risk of hunger, according to the Food Bank of Lower Fairfield County. The organization distributes about one million pounds of food annually (as of September 2008) to about 100 nonprofit agencies and programs, but the need for emergency food in the six-town area it serves has doubled in volume in just two years.
During this season in which we give thanks, it's hard to ignore others that may not be so fortunate. So advocates for the hungry encourage people to give what they can as a show of thanks. For example, a $20 donation to the Lower Fairfield Food Bank can supply soup kitchens with vegetables for a week.
The Council of Churches of Greater Bridgeport's Hunger Outreach Program provides support services to a network of 34 local congregations and community groups that in turn provide direct services to those in need throughout Bridgeport, Stratford, Trumbull, Monroe, and Fairfield.
Want to help those who are helping others? Visit these sites for more information:
The Council of Churches of Greater Bridgeport's Hunger Outreach Program: www.ccgb.org