Consult our annual guide to find farms in Fairfield County, Connecticut, that offer cut-your-own Christmas trees in December.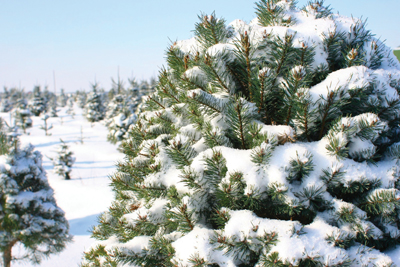 Distract your children-turned-detectives from Operation: Find Where Mom Hid the Presents This Year by declaring an outdoor adventure-Mission: Find the Perfect Christmas Tree. First, consult our guide below for farms near you that offer the opportunity to cut down your own evergreen beauty. Next, bundle up and enjoy the great outdoors for a morning, afternoon, or the whole day, and make sure to take advantage of any perks, like free hot chocolate or other goodies. Finally, haul your new piney friend home for a decoration celebration.
All dates are projected and availability is subject to change. We recommend calling ahead before visiting any of these locations.
Fairfield County, Connecticut
548 Quassapaug Road, Woodberry
203-263-4786
Open November 26 through December 24; 12-3:30pm weekdays, 9am-3:30pm weekends. Tree carts available to help transport your tree. Handmade wreaths also available.
136 Sherwood Road, Easton
203-268-2508
Open November 27-28, December 4-5 and 11-12; 9am-dusk. Tools and assistance provided.
606 Walnut Tree Hill Road, Shelton
203-929-8425
Open November 20 through December 24, 9am-5:30pm daily; arrive before 4pm if you plan on cutting your own with a provided saw. Twine and tree bailing services available. Holiday decorations and traditional crafts and ornaments for sale. Refreshments available.
555 North Park Avenue, Easton
203-261-9577
Open November 26 through December 23, 9am-5pm daily. Open December 24, 8am-noon. Tree bailing and assistance provided. Hayrides, refreshments, and gift store available on weekends. Pre-cut trees also available.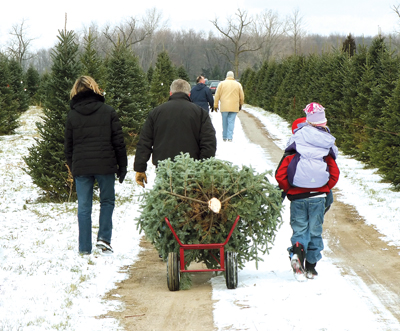 Rose's Berry Farm, LLC
295 Matson Hill Road, South Glastonbury
860-633-7467 or 860-633-6001
Tagging starts November 20. Open for cutting November 26 through December 22, 9am-4pm Wednesday-Sunday. Christmas shop with wreaths, gifts, and baked goods.
Staib Tree Farm
49 Walnut Hill Road, Bethel
203-748-1610
Open for tagging through November. Open for cut-your-own November 27 through December 29; 9am-4pm weekends.
Also see: Our full guide to Where to Cut Your Own Christmas Trees in the New York Metro Area