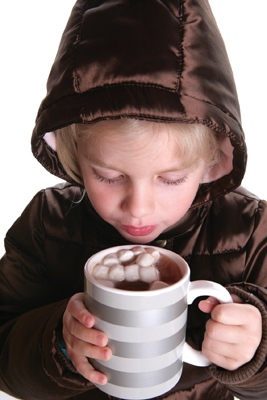 We've highlighted some of the coziest cafes and sweet stops in Fairfield County, CT, where families can grab a steaming mug of cold-weather beverages like hot cocoa or tea. The next time you venture out in the sleet and snow to gather a few more gifts, make it a point to take a break and treat yourself (and your little holiday helper, of course!). Before you know it, the grumpies will be gone, and you'll be left with that warm, fuzzy, I'm-Dreaming-of-a-White-Christmas feeling.
Arogya Tea prides itself on its hundreds of tea and herb varieties, ranging from traditional imported Chinese and Japanese selections, to in-house medicinal blends, to an assortment of flavors, including children's and decaffeinated options ($3). All teas are loose-leaf and the shop is eager to help consumers learn the proper technique for brewing and tasting at in-store workshops. Sampling is encouraged, and Arogya will happily put together variety packs that make perfect holiday gifts. A favorite fall/winter blend is a mixture of chocolate, rosebud, and black tea. Monday-Saturday 9:30am-5:30pm, Sunday 10am-4pm. 131 Post Road East, Westport. 203-226-2682.
Chocopologie offers families the unique opportunity to witness first-hand how hot chocolate and other chocolate treats are made, through viewing windows into the kitchens. And with four choices of hot chocolate, patrons are sure to be pleased. The original is a dark chocolate blend made from 71% cocoa ($5.25). The "spicy" combines South American criollo cocoa beans at 64% cocoa content with a mix of cayenne and cinnamon ($5.25). Kids will love the "mild," a milkier blend with homemade marshmallows ($5.25). Fritz's Hot Chocolate is topped with a passion fruit and ginger foamed milk ($6.50). Another unique take on the drink is the Chocopologie, a blend of espresso and dark hot chocolate that's topped with lavender foam ($5.75). The iced ($5.50) and frozen ($6.50) versions of hot chocolate are available in regular or spicy. Monthly truffle-making class on November 20 at 7pm. Special tours available upon request. Open Monday-Tuesday 11:30am-5pm, Wednesday 11:30am-9pm, Thursday 11:30am-11pm, Friday 11:30am-12am, Saturday 9am-12am, Sunday 9am-5pm. 12 South Main Street, Norwalk. 203-854-4754.
Recently expanded, Cocoa Michelle features a chocolate lounge where one can indulge in an extensive list of artisan chocolates or sip a delicious chocolate beverage. For more advanced palettes, Cocoa Michelle offers a Euro-Cocoa, a thick, rich shot of European sipping chocolate ($2.50). A different spin on the drink comes in the form of the Chocopino, which combines a shot of Euro-Cocoa with milk and foam for a cappuccino-like effect ($2.90). Finally, Cocoa Michelle offers a Choco-Latte, which blends steamed milk with Euro-Cocoa for a more traditional taste ($3.25). In addition to chocolate, the café serves Harney and Sons teas ($2; soon available in pots). Open Monday-Friday 5:30am-5pm, Saturday 9am-5pm, and opening soon on Sundays 9am-1pm. 54 Railroad Place, Westport. 203-221-0020.
Connecticut Muffin has a hot chocolate made from steamed milk (regular or skim), and an assortment of syrups to flavor it to one's liking ($2.70-$3.65). The café also offers more than 10 loose leaf tea blends ($1.60-$2.10; $3.85 per pot), an array of all-natural muffins and scones, and lunch specials, including paninis. Monday-Saturday 5:30am-5pm, Sunday 6:30am-3pm. 108 Main Street, New Canaan. 203-972-7557.
Doc's Café, a favorite stop for morning commuters, offers 25 varieties of specialty teas ($1.75-$2.50), and a homemade chai latte ($3-$4). Other fall favorites include hot chocolate and steamers, made from steamed milk and flavored syrups (vanilla, caramel, almond, etc; $2-$3). In the mornings, Doc's serves homemade muffins, biscotti, and scones to accompany its hot beverages. Monday-Friday 7am-5:30pm, Saturday 7am-5pm, Sunday 7am-1:30pm. 570 Riverside Avenue, Westport. 203-226-9444.
The Drawing Room, a home accessories shop with an adjacent tea and espresso bar, offers an expansive list of full-leaf teas that revolve with the seasons in two-cup ($4.95) and four-cup ($7.95) servings. For breakfast, the classic Cream Tea ($13.95) offers two scones with clotted cream and choice of jam, and a small pot of tea. Later in the day, try the three-tiered Afternoon Tea ($26; $52 for two), including a freshly baked scone, clotted cream, artisan jam, an assortment of six finger sandwiches, a selection of desserts, and of course, a small pot of your choice of tea. In addition, The Drawing Room offers catering to groups of 10 or more. Open Monday-Saturday 8am-5pm. 5 Suburban Avenue, Cos Cob. 203-661-3406.
The 100% organic and eco-conscious menu at Kaia Café & Organic Juice Bar features a list of more than 20 organic teas that can be enjoyed by the cup ($2-$3), or in two-cup ($3.50) and four-cup ($5.50) pots. Flavors range from herbal and black to more exotic blends, such as the Pu-erh (a fat burning tea), or the Red Raspberry (recommended during pregnancy). In addition, the café offers an organic hot chocolate ($3.50-$4.50), an array of flavored lattes ($3.75-$4.75), and a full-organic menu. Open Monday-Friday 7:30am-8pm, Saturday-Sunday 8am-6pm. 328 Pemberwick Road at The Mill, Greenwich; 1200 Post Road East, Westport. 203-532-0660.
The Little Chocolate Company makes every cup of its homemade hot chocolate from scratch, combining Belgian chocolate shavings with milk and topping them off with a dollop of freshly whipped cream. This winter, the café offers single-origin hot chocolates, which use chocolate made from cocoa beans harvested in specific countries such as Mexico or Sao Thome, in addition to a sweeter white hot chocolate that kids will love. The Little Chocolate Company also serves freshly-brewed, Connecticut-roasted organic coffees, including chocolate cherry and chocolate truffle flavors, as well as Harney and Sons teas. All beverages are to-go ($2.50-$3.50). Open Monday-Thursday 9:30am-4:30pm, Friday-Saturday 9:30am-8pm. 99 Mill Street, Greenwich. 203-531-6190.
New Canaan's Rosie is the perfect stop for families looking to warm up this fall. Rosie's homemade hot chocolate is a blend of steamed organic milk and dark Belgian chocolate served with whipped cream ($2.50-$4). Other hot treats include cappuccinos made from Italian coffee ($3.75), and a November special, the hot mulled cider ($3). Rosie also offers a full organic children's menu, or will serve smaller portions of its regular menu items. Kids will love the full basket of toys in back to play with while waiting for their food. A New Orleans-style brunch is served on Sundays. Open Tuesday-Saturday 8:30am-5:30pm, Sunday 9-3. 27 Elm Street, New Canaan. 203-966-8998.
Schakolad Chocolate Factory offers three varieties of hot chocolates ($3.50) at its Stamford location-a sweet white chocolate blend, classic milk, and a bitter, rich dark chocolate. Its signature frozen hot chocolate ($3.50) is also available in these three flavors, and is sure to delight the tongue. The shop offers a wide assortment of truffles to compliment its chocolate beverages. Open Monday-Friday 11am-6pm, Saturday 11am-5pm. 172 Bedford Street, Stamford. 203-359-1886.
Sono Caffeine carries a wide selection of specialty coffee and tea drinks, served either iced or hot. For chocolate lovers, taste the Hot Dark Chocolate ($3.70) or Hot Blanca White Chocolate ($3.95), both mixed from Ghirardelli chocolate and creamy steamed milk. Add flavors like pumpkin spice or banana, or whipped cream for an extra 50 cents. In addition, Sono Caffeine has hot apple cider for fall, and more than 10 varieties of loose-leaf tea ($4.75 per two-cup pot). The café's extensive list of gourmet desserts, cheeses, and truffles also make for a worth-your-while visit. Open Monday-Tuesday 7:30am-6pm, Wednesday 7:30am-8pm, Thursday 7:30am-10pm, Friday 7:30am-11pm, Saturday 8am-11pm, Sunday 8am-8pm. 133 Washington Street, Norwalk. 203-857-4224.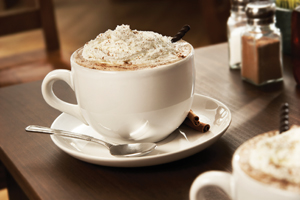 Tea Blossom started as just a tea boutique, but has recently added its "tea-to-go" service, allowing customers to enjoy a cup as they browse or on the run ($2.50 and up). The shop offers more than 90 varieties of loose leaf blends and puts together a monthly sampler pack, which is geared towards the weather or season. In addition, Tea Blossom stocks teapots, cups, accessories, and tableware. Open Tuesday-Friday 10am-5pm, Sunday 10:30am-5pm. 64 Garth Road, Scarsdale. 914-472-1128.
See our complete guide to the best hot chocolate and tea spots in the NY metro area