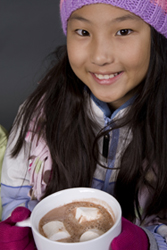 With festive lights and decorations adorning storefronts and downtown streets, snowflakes swirling against scarves and overcoats, and a feeling of goodwill in the air, there's no denying the magic of the holiday season. But this time of year also brings the gift giving season, and with it the stresses of holiday shopping. Take a break from the hustle and bustle to sit down with a cup of hot chocolate or tea. There's just something about wrapping your hands around a steaming mug of cocoa that helps you regain perspective, recharge your spirit, and reconnect with the people that matter to you.
Whether you're looking for a cozy spot for afternoon tea or a quick and creamy treat for your little one, our guide will point you in the right direction.
Check out our other area guides: Manhattan and Brooklyn; Nassau County, Long Island; Queens; Rockland County; Suffolk County, Long Island; Westchester County
FAIRFIELD COUNTY, CT

Arogya Tea's menu includes hundreds of teas and herbs, including children's blends and decaffeinated options. Their apple and berry blends are especially popular with kids. A cup of tea costs $3; an organic tea latte is $3.50. They also offer a selection of locally roasted organic coffee. Arogya regularly hosts tea parties, tea ceremonies, and tea workshops on location. Check www.arogya.net for dates and registration. Open Monday-Saturday 9:30am-5:30pm, Sunday 10am- 4pm. 131 Post Road East, Westport. 203-226-2682. www.arogyatea.com; www.arogya.net.
Chocopologie is a unique café and retail store where kids can enjoy their hot chocolate and watch how chocolate is made. They offer four hot chocolate choices, all made from 73 percent cocoa: regular Hot Chocolate; Spicy Hot Chocolate made with chipotle, cinnamon, ginger, and cloves; Mild Hot Chocolate made with warm milk and topped with homemade marshmallows (a kid favorite); and Fritz's Hot Chocolate which is topped with a passion fruit/ginger foam ($5.25-$6). Special tours are available on request. Open Monday-Tuesday 11am-5pm, Wednesday 11am-10pm, Thursday 11am-11pm, Friday 11am-midnight, Saturday 10:30am-midnight. 12 South Main Street, Norwalk. 203-854-4754. www.knipschildt.com.
Cocoa Michelle, known for its artisan chocolates, is a full Euro Café serving fair trade coffees, cappuccinos, espressos, and lattes along with a wide selection of teas ($1.75-$2) and Euro-cocoa - a thick and delicious chocolate treat ($3.25-$4). Its living room offers customers a cozy place to sit and indulge. 54 Railroad Place, Westport; 190 Main Street, Westport. 203-221-0020; 203-221-0002. www.cocoamichelle.com.
Doc's Café has 25 varieties of specialty teas ($1.75-$2.50), as well as a chai latte ($3-$4.25). The hot chocolate is another fall favorite made with steamed milk (regular, soy, or almond milk) and flavored syrup ($3). 570 Riverside Avenue, Westport. 203-226-9444.
Garelick and Herbs, a large catering facility, also has three store locations serving up hot chocolate and tea ($1.50-$2.50). Chocolate syrup or cocoa powder can be added to their hot chocolate made with steamed, frothy milk. 1799 Post Road East, Westport; 97 Main Street, New Canaan; 48 West Putnam Avenue, Greenwich. 203-972-4497. www.garelickandherbs.com.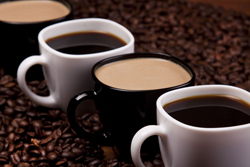 M-bellish Café & Tea Room's Traditional Tea ($24.95) includes a two-cup pot of tea along with an assortment of tea sandwiches, scones with preserves and clotted cream, and mini desserts. Have a bit more with the Queen's Tea ($30) or a bit less with the Light Tea ($21.95). The On to Mature Tea ($14.95), for children 12 and under, includes a pot of children's tea or juice, assorted tea sandwiches, fruit, and a miniature dessert. Reservations required. 116 Bridgeport Avenue, Milford. 203-283-5472. www.mbellishtearoom.com.
Sono Caffeine lives up to its name with a wide variety of specialty coffee and tea drinks, iced or hot. If you're not looking for a pick-me-up, try their Hot Dark Chocolate ($3.70; carry out is $3.20-$4.20) or Hot Blanca White Chocolate (carry out is $3.45-$4.45), both mixed with creamy steamed milk. Add whipped cream for $.50. They also have more than 18 varieties of organic and loose teas ($4.50 per pot; carry out is $3.50-$5.50). Sono Caffeine is also known for its extensive gourmet dessert menu, gourmet cheeses, and truffles. 133 Washington Street, Norwalk. 203-857-4224. www.sonocaffeine.com.