For foodies in Fairfield, the search for fresh, local, and certified organic produce is about to get a whole lot easer. On June 3 at 8:30am, Whole Foods Market will open its eighth Connecticut location in Fairfield at 350 Grasmere Avenue.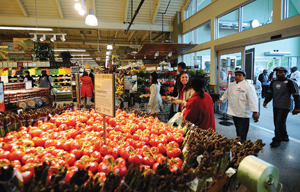 In addition to the usual tours, tastings, and special sale items, the 45,000-square-foot store will feature a unique "Cooking Fairfield" department designed to encourage customers to cook and enjoy seasonal dishes at home. The in-store department consists of workspaces, cookbooks, cooking tools, and cooking demonstrations led by Chef Michel Nischan, founder and CEO of the local non-profit Wholesome Wave, a charity organization dedicated to providing fresh, inexpensive, locally-grown food to people in underdeveloped neighborhoods across the country. Whole Foods will donate five percent of the total grand opening sales to Wholesome Wave, which Nischan believes to be an ideal partnership. "What we are doing in farmer's markets across the U.S., Whole Foods Market is doing in their stores: bringing fresh, local, organic and affordable foods to shoppers every day. The 5 percent donation from Whole Foods Market will further our shared mission of feeding families healthful food," says Nischan.
Shopper grand opening perks also include gift bags, tips from the Whole Foods Cooking Coach and the specialist at the "Healthy Eating Center," and the opportunity to snag a signed copy of Nischan's latest book, Sustainably Delicious. For more information on the bread breaking and opening day festivities, follow Whole Foods Market Fairfield on Twitter or like them on Facebook.