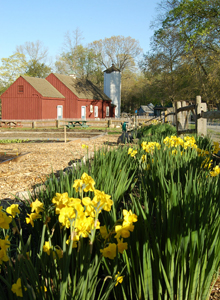 Embrace the warmer season by paying a visit to a zoo or nature center in Fairfield County, CT, many of which offer outdoor, nature-based activities for kids and adults alike. There's already plenty in bloom at area botanical gardens, with sights and smells for all to enjoy. If you're looking for something less structured, leave your plans behind for the day, pack up the family, and head to the park where you can lay out a picnic, play a game of catch, or just soak in some rays (don't forget the SPF!) on the newly sprouted grass.
Our guide has all the information you need for a fun family outing to celebrate the great outdoors in Fairfield County, CT. So, if you've thawed out enough, put a spring in your step and hop to some seasonal fun at any one of the locations below.
613 Riversville Road, Greenwich
203-869-5272
Hours: Trails open daily, sunrise to sunset; center open Monday-Friday 9am-5pm. Price: $3; $1.50 children and seniors.
The Audubon Center's walking trails span seven miles and 285 acres, past lakes, ponds, and rivers. The center also has bird blinds, a place to watch for birds where they can't see you, including many species of hawks.
151 Brookdale Road, Stamford
203-322-6971
Hours: Open daily, 8:30am to sunset. Price: $6.
The arboretum features extensive gardens and a collection of plants and trees, as well as hiking trails in the woodlands nearby.
Birdcraft Museum
314 Unquowa Road, Fairfield
203-259-0416
Hours: Tuesday-Friday 9am-1pm. Price: $2 suggested admission; $1 children.
The six-acre sanctuary contains hiking trails, including the Connecticut Women's Heritage Trail. The museum also hosts wildlife exhibits and dioramas.
Nature Center
2325 Burr Street, Fairfield
203-259-6305
Hours: Tuesday-Saturday 10am-3pm. Price: $2 suggested admission; $1 children.
The birds of prey compound is a viewing area for raptors. The center also includes a sanctuary and wigwam replicas, and is home to animals like blue-tongued skinks, snakes, turtles, and millipedes.
1875 Noble Avenue, Bridgeport
203-394-6565
Hours: Open daily 9am-4pm; closed Thanksgiving Day, Christmas Day, and New Year's Day. Price: $11; $9 seniors and children ages 3-12; free children 2 and under.
The zoo includes the New England Farmyard, Wolf Observation Learning Facility, and South American Rainforest exhibits, with more than 300 animals representing mainly North and South America. Plus, keep a lookout for the peacocks wandering about! Also make sure you stop by to see Naka, the zoo's newest addition: a 275-pound female Amur (Siberian) tiger who recently arrived from the Rosamond Gifford Zoo in Syracuse, NY.
120 Brookside Road, Darien
203-655-7459
Hours: Summer: Monday-Thursday 9am-4pm; Friday 9am-1pm; Saturday 9am-1pm. Price: Free; minimum $5 donation suggested.
The center features a small trail system, ideal for kids; a pond with ducks; as well as rotating exhibits and a constant exhibit with more than 40 animal species.
10 Woodside Lane, Westport
203-227-7253
Hours: Monday-Saturday 9am-5pm; Sunday 1-4pm; grounds open 7am till dusk daily. Price: $7; $5 seniors and children under 12; free admission to grounds.
With a mission to educate the community about nature and the environment, Earthplace offers 62 acres of wildlife sanctuary, which includes hiking trails, an interactive natural history museum with live animals, and public nature programs and events. For kids, there's the Explorer's Clubhouse, Tiny Tree House, Nature Lab, Backyard Resource Center, and Nature Theater.
Nature Conservancy's Devil's Den Preserve
33 Pent Road, Weston
203-226-4991
Hours: Open daily, sunrise to sunset. Price: Free.
The preserve is the Conneticut Chapter's largest continuous preserve and largest tract of protected land in Fairfield County. offers more than 20 miles of trails, acts as a habitat to about 40 bird species, and holds the remains of charcoal and lumber production sites. The area is deeply wooded, with rock formations, streams, and swamps.
144 Oenoke Ridge, New Canaan
203-966-9577
Hours: Visitor Center and Greenhouse: Monday-Saturday 9am-4pm; Birds of Prey, Arboretum, and Gardens: dawn to dusk daily. Price: Free.
The center includes two miles of hiking trails on the grounds, which include wet and dry meadows, two ponds, wet and dry woodlands, dense thickets, an old orchard, and a cattail marsh. The center also encompasses seven aviaries in its Birds of Prey exhibit, an arboretum full of native and nonnative trees, several specialty gardens including a Wildflower Garden and The Bird and Butterfly Garden, and a 4,000-square-foot greenhouse featuring exotic species of flora.
- The center hosts a variety of nature based family and youth programs, like its summer camp for children ages 3-16.
5 Silver Hill Road, Easton
203-268-9994
Hours: 9am-2:30pm daily. Price: Lessons and trail rides are $40 per person for 30- and 60- minute rides. $80 per person for 90-minute rides (check or cash only).
The farm offers 30-minute lessons and 45- and 90- minute trail rides for kids ages 8 and older. Walk and trot rides only.
Stamford Museum & Nature Center
39 Scofieldtown Road, Stamford
203-322-1646
Hours: Vary based on events and attraction. Price: $10; $8 seniors; $6 students; $5 children ages 4-17; free children 3 and under. Planetarium: $3; $2 children ages 5 and up. Observatory: $3; $2 children.
The center is a New England working farm with heirloom breeds of animals, an otter pond, an observatory with a 22-inch research telescope, changing exhibition galleries, a planetarium, early education classrooms, and a vast hardwood forest with 80 acres of hiking trails.
See our complete guide: Zoos, Nature Centers, and Botanical Gardens in the New York Metro Area