Get outdoors and enjoy the fresh air and nature around you at these national parks in Fairfield, Westchester, and Rockland counties, including parks in Monroe, Nyack, and Yonkers, that have been approved wheelchair accessible by the nonprofit Rails-To-Trails Conservancy.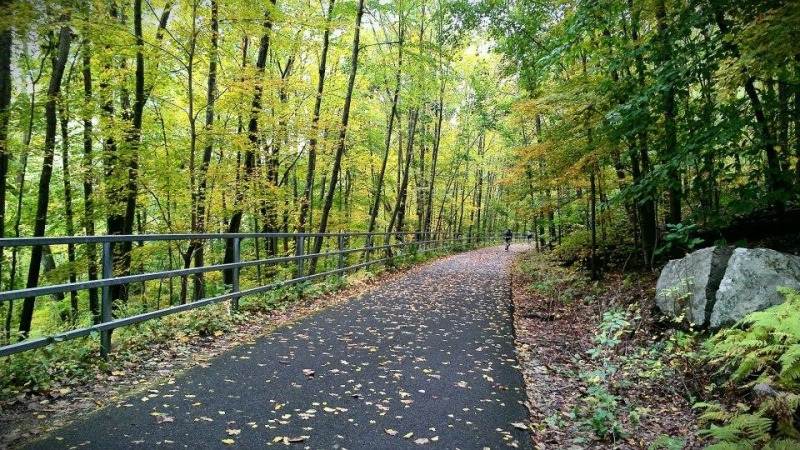 The following nature trails have been deemed wheelchair accessible by the Rails-to-Trails Conservancy, a nonprofit working to create a nationwide network of trails from former railroad lines. These "rail-trails" are flat or follow a gentle grade and are paved with asphalt or crushed stone, making them ideal for walking, bicycling, and wheelchair use, allowing families who have relatives in wheelchairs to enjoy the outdoors together. Find a wheelchair accesible national park in Fairfield County, Westchester County, and Rockland County.
Wheelchair Accessible Nature Trails in Fairfield County, CT
Housatonic Valley Rail-Trail in Monroe
Swamp Road to Purdy Hill Road in Monroe
The 4.3-mile trail, paved in compact crushed stone, is largely forested and is a convenient route to William E. Wolfe Park (a paved pedestrian-only path circles the park's 16-acre lake). Parking is available in the park (fee applies) or off Cutler's Farm Road near Pepper Street and farther northwest off Pepper Street.
Norwalk River Valley Trail
Maritime Aquarium to Union Park and New Canaan Avenue to Kellog Pond
Paved in asphalt, this 4-mile trail can be accessed on the north side of Maritime Aquarium and also from Mathews Park and Union Park. For more info, visit nrvt-trail.com.
Ridgefield Rail Trail
Prospect Street to Florida Road
Meandering about 2.5 miles, this mostly asphalt-paved trail passes through several parks and open spaces. Parking is limited.
Wheelchair Accessible Nature Trails in Rockland County
Hook Mountain/Nyack Beach Bikeway
Nyack Beach State Park to Hook Mountain in Haverstraw
While not technically a "rail-trail," this bikeway is a 4.9-mile scenic trail along the Hudson River. Stick to the southern half of the trail, which is flat and runs along the river at sea level (paved in asphalt and gravel). It is wheelchair accessible from the parking lot at Nyack Beach State Park. There is a paved connection to the Rockland Lake State Park area from this trail.
Jones Point Path
Jones Point to near Iona Island (US Route 9W)
This 2-mile path, paved in crushed stone and dirt, occupies an abandoned motor vehicle route (old US Route 9W) near Bear Mountain. A dedicated parking area for trail users is available along the shoulder of US Route 9W northbound, near the Iona Island access road.
Joseph B. Clarke Rail Trail
Oak Tree Road in Tappan to Greenbush Road in Orangeburg
This 2.8-mile mixed-use trail traverses neighborhoods, the village of Sparkill, and forested areas. Parking areas are located on Oak Tree Road (from the Palisades Interstate Parkway, take Exit 5 South to U.S. Route 303, then turn left onto Oak Tree Road) and near the Lowe's store at 206 New York 303 in Orangeburg (northeast corner of the parking lot).
Tallman Mountain State Park Bike Path
Palisades (US Route 9W near Oak Tree Road) to Piermont (Bridge Street and Ferdon Avenue)
This partially paved 2-mile path bisects Tallman Mountain State Park. A free designated parking area for trail users is located on US Route 9W North in Palisades, about 0.2 miles north of Oak Tree Road on the east side of the road.
Wheelchair Accessible Nature Trails in Westchester County
Bronx River Greenway
Kensico Dam Plaza County Park in Valhalla to Sound View Park in the Bronx
This greenway stretches 16.3 miles in disconnected segments. Paved sections include: a 1-mile loop near Oak Street in Mount Vernon beginning and ending at Oak Street; 4.6 miles between Palmer Road in Bronxville and Crane Road at Scarsdale Avenue in Scarsdale, with a loop around the small lake in Bronxville; 5 miles between Greenacres Avenue in Hartsdale and Kensico Dam Plaza in Valhalla; as well as several miles east of Woodlawn Cemetery, along Bronx Park, and through Sound View Park. Parking is available in nearby Metro-North train station parking lots and in the Westchester County Center parking area in White Plains. Parking fees may apply. Trail maps are available by calling 914-242-7275.
North County Trailway
Old Sawmill River Road in Mount Pleasant to Baldwin Place Road in Somers
This asphalt-paved trail stretches 22.1 miles, through Pleasantville, Millwood, and Yorktown Heights, connecting on its southern end to the South County Trailway. Parking in Mount Pleasant is in the Eastview Park and Ride Lot (take Saw Mill River Parkway to Exit 23 for Eastview, follow Old Saw Mill River Road west until it becomes Neperan Road. The park-and-ride is on the right side of the road). To reach the Somers trailhead from the Taconic State Parkway, take US 6 east, bear right onto State Route 118, and turn right onto the Somers Commons Shopping Center access road. A dirt parking lot for the trail is on the left. A dirt path leads up to the trail.
Old Croton Aqueduct Trail
Bronx to Croton Reservoir
The trail offers a level, dirt and gravel 26-mile path from the New Croton Dam in northern Westchester to Van Cortlandt Park at the New York City line. Parking is available on local streets and several municipal parking lots along the trail route.
South County Trailway
Old Saw Mill River Road in Mount Pleasant to Van Cortlandt Park in Yonkers
This 14.1-mile trail is paved in asphalt and concrete. Entry points are located at Redmond Park in Yonkers (parking available, and a paved ramp leads up to the trail at the far end of the parking lot) and at the Eastview Park and Ride Lot in Mount Pleasant (see directions in the listing for North County Trailway above).
Also see:
• Wheelchair Accessible Nature Trails in NYC
• Wheelchair Accessible Nature Trails on Long Island