This guide features carousels and merry-go-rounds in Connecticut, including Bridgeport, Bristol, Danbury, and Hartford, CT. It includes a description of each carousel as well as its location, the hours it's open, and the price per ride.
Fairfield County Carousels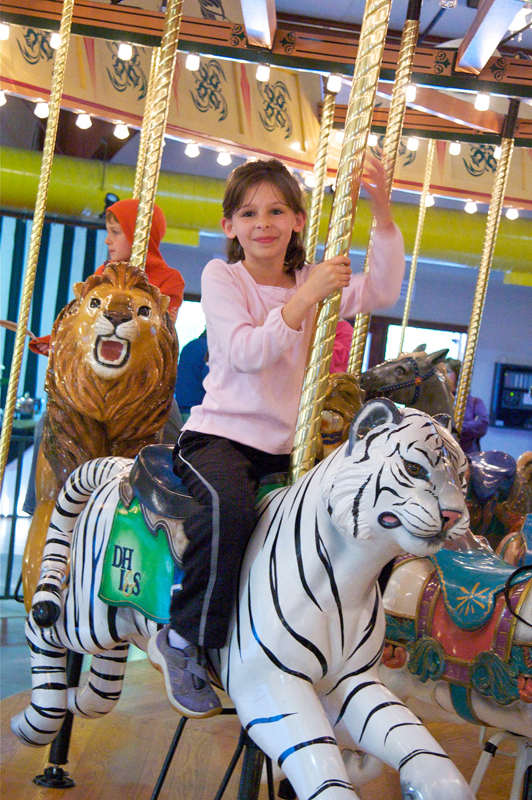 Beardsley Zoo Carousel
1875 Noble Ave., Bridgeport
203-394-6565
Hours: Open 9am-4pm daily
Price: $2 per ride plus zoo admission: $12; $10 seniors and children ages 3-11; free for children younger than 3
This new carousel features colorful versions of the animals you visit at the zoo.
Danbury Fair Mall Carousel
7 Backus Ave., Danbury
203-207-0305
Hours: Monday-Saturday 10am-9:30pm; Sunday 11am-7pm
Price: $2 per ride; $10 for six rides; $15 for 10 rides
Located in the food court on the mall's upper level, this double-decker carousel features rows of wooden horses that move up and down to traditional carnival music. The mall is built on the former site of the Danbury Fair (last held in 1981), and the carousel is a replica of that fair's carousel.
Hartford County Carousels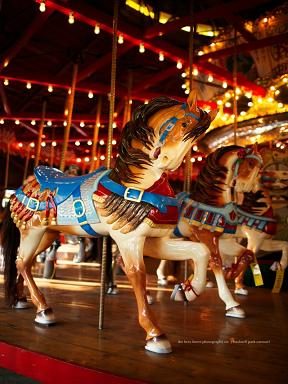 Bushnell Park Carousel
Bushnell Park, Trinity Street at Elm Street, Hartford
860-585-5411
Hours: Open Tuesday-Sunday 11am-5pm, April 27 through October
Price: $1 per ride; free for children younger than 1
This antique carousel (it's nearly 100 years old!), housed in a pavilion, features 48 hand-carved wooden horses and two lovers' chariots that swirl around a booming Wurlitzer band organ.
New England Carousel Museum Carousel
The New England Carousel Museum, 95 Riverside Ave., Bristol
860-585-5411
Hours: Tuesday-Saturday 10am-5pm; Sunday 12-5pm
Price: One complimentary ride with admission: $6; $5.50 seniors; $3.50 children ages 4-14; $2.50 children ages 1-3. $1 for each additional ride.
This 20-seat , indoor carousel, installed last spring, offers the traditional moving horses in addition to a chariot, a spinning teacup, and a rocking horse. The museum houses one of the largest collections of antique carousel pieces in the country.
Find more carousels in:
Rockland and Westchester Counties