The Circle of Friends promotes inclusion and friendship for kids and teens with special needs among their peers with several programs, including a weekly Home With Friends program or a Sunday Teen Program.
Rachel Davison, 16, says she never imagined being a part of Circle of Friends would affect her so profoundly. She learned about the Connecticut-based organization that provides a wide array of innovative programming for individuals with special needs when she was 12, right before her bat mitzvah. She was looking for a mitzvah project and Freida Hecht, the director of education at Beth Israel Synagogue of Wesport/Norwalk, suggested Davison start volunteering once a month with the organization.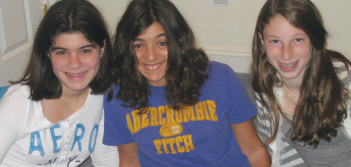 Rachel Davison (left), Wilton, CT teen volunteer; Jenna Levantin (right), Westport, CT teen volunteer; and
their special friend.
Now, four years later, Davison is president of her town's chapter and says the hands-on program "fills me with a kind of energy I haven't gotten anywhere else."
Circle of Friends offers several different programs, all focused on connecting kids with special needs and their typically developing peers, and creating a community of human beings who can rely on and care for one another.
"When you touch another person you create a positive energy that resonates across the universe and affects everybody in a very positive way," Hecht says. "The circle never ends." The program Davison now participates in is Home With Friends, a weekly commitment only available to volunteers in high school. Volunteers are paired up and then matched with a child who has special needs, and they plan hourly visits once a week.
Davison gets together once a week with her special friend, who is 12, for an hour of bonding as part of the Home With Friends program. Davison says their relationship feels natural despite the 4-year age difference. Due to confidentiality, Davison is not allowed to disclose her special friend's name or what her specific special needs are, but she says that she's energetic, fun to be with, and very talkative. The girls do a lot of baking, and have recently been playing Wii sports. "She's got older siblings who play sports so she's really competitive," Davison says. "She's really good at the games!"
Get Involved!
The Circle of Friends was started because of a community need, and exists to promote inclusion and friendship for kids and teens with special needs among their peers.

There are several program options for volunteers including a broad spectrum of intensity, age groups, time commitments, and interests, including a one-hour weekly Home With Friends program (referenced in this story), a two-hour monthly Sunday teen program, a camp that takes place both during winter and summer, and a monthly young adult recreational evening. There are also options to mentor a child with special needs in life skills, and mother/daughter and father/son volunteer opportunities are available.

For more information, visit circleoffriendsct.org or call 203-293-8837. For those interested in donating money as opposed to time, there is a "donate" tab on the Circle of Friends website with additional information. The Circle of Friends headquarters is at 40 King St., Norwalk, CT, but there are multiple chapters, so inquire about opportunities in your town.
Beth Davison, Rachel's mom, loves the program so much that she encouraged her two younger daughters to get involved, too. She credits the program for positively impacting the lives of all involved—as well as teaching her daughter the value of making a commitment and staying true to her responsibilities. "She loves going to visit her special friend every week," Beth says. "Rachel feels so comfortable with her. It's a true friendship—all their guards are down."
Circle of Friends began eight years ago when Hecht noticed that kids and teens with special needs were very isolated in the community. She began organizing play dates for them with young volunteers who did not have special needs, and "it worked out unbelievably well." Circle of Friends now has approximately 140 volunteers. "I always tell the volunteers, you're doing a great thing, but you also have a great privilege," Hecht says.
Davison certainly feels lucky to be a part of the program. "It's such a rewarding experience," she says. "I'm not just a volunteer. I love going to see my special friend. We really are friends."