Looking for fun and low-cost Father's Day events in Fairfield County, CT? Here are our 6 picks, including family activities in Bridgeport, Fairfield, Norwalk, Westport, and Wilton. Make dad a gift, bring him to the zoo, or enjoy a special performance.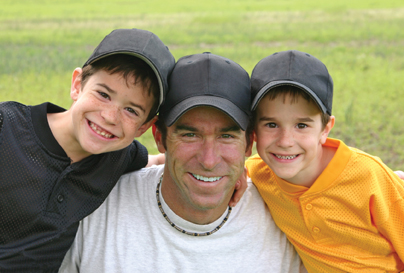 Once a year, Dad is allowed to kick back, put his feet up, and receive a little pampering from the family. Perhaps he'll receive a handcrafted card and, if he's really good, maybe even free admission to a few local spots. Here's the scoop on Father's Day in Fairfield County, CT.
Make Dad a Gift for Father's Day
Kids of all ages can drop into the Wilton Library on Saturday, June 15 to make Father's Day Crafts. FREE!
Also on June 15, children ages 3-5 are invited to the Fairfield University Bookstore for Kids Story Time: Celebrating Fathers, where they'll hear a story, make a craft, and enjoy a snack. Call x501 or email [email protected] to reserve your spot. FREE!
Free Admission for Fathers
Dad gets free admission to the Stepping Stones Museum in Norwalk on Father's Day, June 16 (admission is normally $15 per person).
Not only does Dad get in free to Beardsley Zoo in Bridgeport on June 16, but he can also visit the zoo's animal dads, including Rizzo the North American otter, Hanton the Guinea hog, and D.J. the pronghorn. Regular admission is $12 for adults.
Cultural Events on Father's Day
If Dad is a music lover, let students from Fairfield Warde and Fairfield Ludlowe High Schools serenade him at an Acapella Mini-Concert at the Fairfield University Bookstore in Fairfield. FREE!
If Dad is a science buff, take him to David Pogue Talks Science at the Westport Library in Westport, where he can enjoy a riveting presentation by the host of PBS's NOVA series Making Stuff. FREE!
More Fun
Take Dad out to the ball game! Find minor league baseball parks in your area
Search our full calendar of events for more fun family activities in CT and NYC