Looking for Thanksgiving kids' events in CT? Our list includes Thanksgiving crafts in Norwalk, the UBS Parade Spectacular in Stamford, a Thanksgiving Day pancake breakfast in Fairfield, day-after movies in Wilton, and a Turkey Walk in Westport.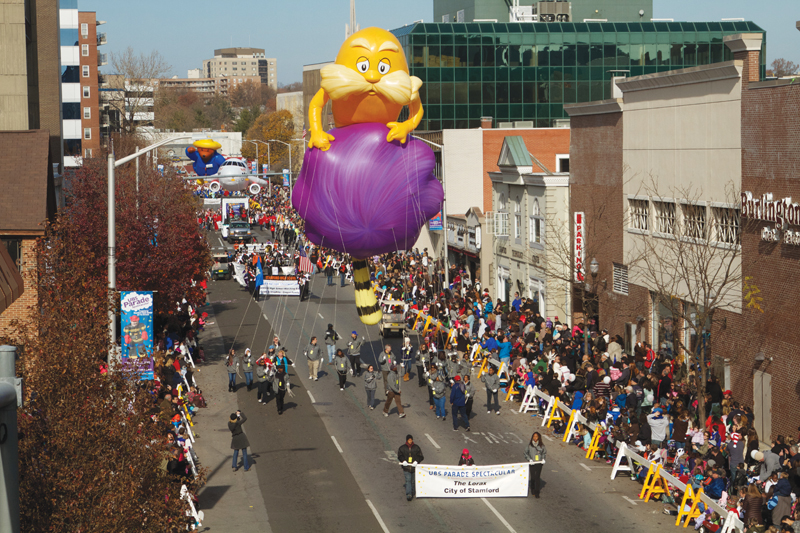 Some people love Halloween, others can't wait for Christmas, and then there are the turkey lovers. And why not? No gifts, no candy, no expectations to be dashed. Thanksgiving is simply about enjoying comfort foods with the ones you love and knowing that everyone across the country is doing the same. Here are a few ways to celebrate.
Get Crafty
Create a Wreath for Thanksgiving, inscribed with messages of gratitude, at Stepping Stones Museum in Norwalk on Nov. 26-27. Free with museum admission.
Let's Have a Parade
Visit downtown Stamford on Nov. 23 to witness the SAC Capital Advisors' Giant Balloon Inflation Party in preparation for the parade. FREE!
The UBS Parade Spectacular is one of the largest helium balloon parades in the country, featuring popular balloon characters and award-winning marching bands and floats. See it Nov. 24 in Downtown Stamford. FREE!
Before the Big Meal
Enjoy a turkey-free Pancake Breakfast on Thanksgiving morning (Nov. 28) at Chip's Family Restaurant in Fairfield. Proceeds benefit Operation Hope of Fairfield in its efforts to end hunger and homelessness in the community.
Two Ways to Recover
The Wilton Library is offering Day After Thanksgiving Movies on Nov. 29. Watch Turbo (2013; 96 minutes; rated PG) at 10:15am, followed by Monsters University (2013; 104 minutes; rated G) at 2pm. FREE!
Walk off the turkey on Nov. 30 with what else…a Turkey Walk! Bundle up and bring a camera as you follow a local expert in search of wild turkeys on Earthplace's trails in Westport.
More Fun
Kids off from school? Take them to a local indoor or outdoor ice skating rink for some exercise.
Search for more fun family activities in our full calendar of events.