New Canaan YMCA recently expanded the fitness offerings at its facility. The YMCA repurposed an area for fitness activities using various equipment, and offers LIVESTRONG at the YMCA, a fitness program for cancer survivors.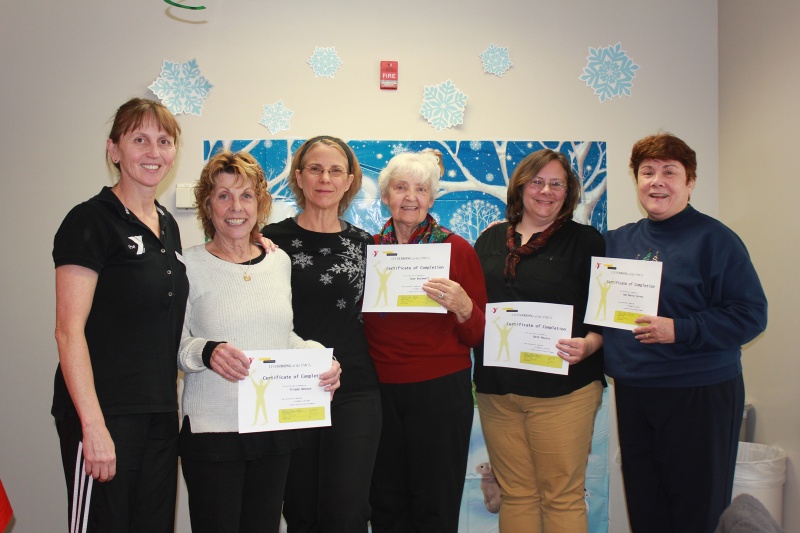 From left: Eva Saint, Frieda Newton, Deb Kozar, Jean Bothwell, Beth Meyers, and Ann Marie Carney graduated from New Canaan YMCA's first LIVESTRONG at the YMCA session in December.
New Canaan YMCA recently introduced The Zone, a fitness space that allows the YMCA to offer more fitness options, and LIVESTRONG at the YMCA, a fitness program through the LIVESTRONG foundation to give members fitness opportunities that help improve strength and wellness.
The Zone, which was unveiled to YMCA members in March, is a repurposed 2,200-square-foot space used for functional training, stretching and plyometrics, sports performance, and rehabilitation-type activities. A variety of equipment can be used within the space, and it is equipped with sports turf, tubing stations, TRX suspension straps, kickboxing stations, and other fitness equipment essentials that can help members meet their fitness goals.
New Canaan YMCA's LIVESTRONG at the YMCA session, which began in the fall, graduated its first class in December. The program is 12 weeks of free fitness training for cancer survivors. It focuses on helping survivors gain their strength, increase flexibility and endurance, and improve confidence and self-esteem by achieving wellness goals in a group setting. The fall participants met twice a week with two LIVESTRONG certified trainers. The program will be offered again this spring.