A mom from Trumbull, Connecticut in Fairfield County creates a new line of dolls, "Time IN Doll" that teach kids about time and patience.
Karen Barski, a nurse and parenting consultant from Trumbull who is also the inventor of the Woombie baby swaddle, has created a new educational toy meant to teach children ages 3 to 8 the concept of time and patience in a fun and natural way.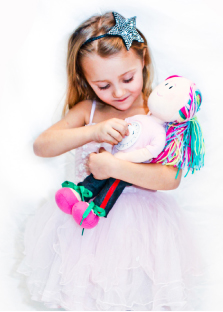 Courtesy VIP Events
Barski, a mother of five, launched the Time IN Doll after testing it out at home, as a tool to get a few minutes of personal time without being interrupted.
"I used the Time IN Doll to give me a 5-minute break when I needed a few minutes to catch up," she says. "I proclaimed to my kids, 'I need 5 minutes—please be patient and when the timer rings you will have my full attention.' Funny thing was—it worked!"
As parents we say things like "We will leave when the TV show is over in 10 minutes," and more often than not, time is associated with "time outs," which is a negative way to teach time, Barski says. She created the Time IN Doll to teach the concept of time in a positive way and to encourage kids to develop patience.
The Time IN Doll collection currently includes two dolls: MommyTime Doll and DaddyTime Doll. Each doll has built-in 15-minute timer—Barski recommends using "time in" intervals of 5 to 15 minutes depending on the age of the child. Features on the dolls teach kids how to tie laces, button, snap, zip, and Velcro while they are waiting for Mom or Dad's attention. New dolls are being designed to incorporate different cultures and ethnic backgrounds.
For more information or to purchase the Time IN Dolls, visit timeindolls.com.