Want to watch a show under the stars this summer? Here's where you and your family can enjoy outdoor theater in Fairfield County this August, including shows kid-friendly shows in Bridgeport, New Canaan, and Ridgefield.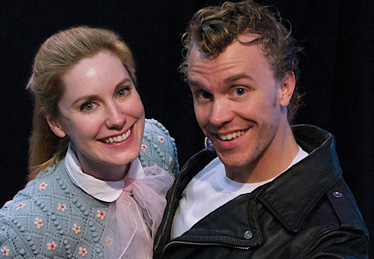 There are some things you can only do during the warm months of summer, such as catching fireflies, listening to crickets, and enjoying a theater performance with the wind at your back. Popular performances move out of the theaters and into the fresh air, either under a tent or completely open to the outdoors, fireflies and all. This month, catch highbrow yet accessible shows penned by The Bard or toe-tapping musicals starring Ariel, Danny and Sandy, The Cat in the Hat, and Pinkalicious.
All's Green in Ridgefield
Shakespeare and the environment would seem to make strange bedfellows, but the Ridgefield Playhouse manages to combine the two events at Shakespeare on the Green and Green Expo. Before the play begins, local businesses and services provide information, demos, and samples on greener living, complete with refreshments and entertainment. An all-ages performance of All's Well That Ends Well follows immediately after and offers comedy, theatrical surprises, music, adventure, and rapid-fire onstage character changes that will hold even the youngest audience members' attention. Aug. 10. Expo at 12pm; performance at 2pm. Tickets are FREE but must be reserved in advance (limit five per family). Ridgefield Playhouse, Ridgefield.
A Fishy Tale
August may be hot, but Ariel doesn't plan to stay in the water in The Little Mermaid, Jr. After making a deal with evil sea witch Ursula, she finds love above the waves with Prince Eric. Weekends, June 15 - Aug. 11; check the website for show times. Summer Theatre Festival at Waveny Park, New Canaan.
A Furry Tail
Sally and her brother should really turn tail at the site of The Cat in the Hat. But naturally, they stick around and are in for some mischievous fun while their mother is away. Weekends, June 29 - Aug. 11. Summer Theatre Festival at Waveny Park, New Canaan.
Think Pink
In Pinkalicious the Musical, a little girl eats her fill of pink cupcakes and turns into her favorite color. Only the wisdom of her broccoli-eating brother can cure her of her 'pinkitis'. Kids should dress in their favorite pink clothes. Aug. 3-4 and 10-11. Summer Theatre Festival at Waveny Park, New Canaan.
Summer Dreams
Catch an outdoor production of CT Free Shakespeare's A Midsummer Night's Dream. Bring lawn chairs or blankets and plan to come early for a picnic. Performances are canceled when whether is severe. Aug 5-11. McLevy Green, Bridgeport. FREE!
Summer Lovin'
Danny (Christian Libonati) and Sandy (Sharon Malane) star in the Summer Theatre of New Canaan's production of Grease in New Canaan's Waveny Park, showing Wednesday-Sunday through Aug. 11.
More Fun
Search our full calendar of events for even more fun and low-cost family activities in Fairfield and the NYC area