Rainbow of Languages, a language immersion program based in Greenwich, is set to begin its fall session in September. The language lessons include Spanish, Mandarin, French, Russian, Hebrew, and ESL.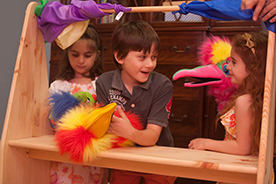 Children can participate in activities such as putting on a puppet show to practice their language skills.
The Rainbow of Languages, a language immersion program, is set to open with its fall session on Sept. 15. Certified teachers and native speakers use a multi-sense teaching style with verbal, visual, and tactile associations to immerse children ages 6 months to 12 years in a new language. At The Rainbow of Languages, children can learn Spanish, Mandarin, French, Russian, Hebrew, and English as a second language.
During the day, infants, toddlers, and preschoolers can take hour-long classes in which they will do a variety of activities that facilitate the learning of a new language—playing games, listening to music, reading stories, acting out plays, and creating arts and crafts while solely speaking the language they are trying to learn. Toddlers and preschoolers engage in basic conversation to expand their vocabulary. Elementary school children who visit the center for an hour after school will work on basic reading, writing, and grammar skills. Each class has as maximum of five children so the teacher can tend to individual needs. Children are encouraged to visit the center as many times a week as possible to fully immerse themselves in the language.
The Rainbow of Languages will offer Magic Carpet nights, open to anyone, on Fridays and Saturdays. During this three-hour workshop children can experience the language, culture, music, games, and stories of a different country. "Our mission is to give kids educational advantages and intellectual stimulation through early exposure to a new language," says Galina Dubrovina, co-founder and Russian and French teacher at The Rainbow of Languages.
The center is open Monday-Thursday from 9am-6pm and Friday-Saturday from 9am-9pm.